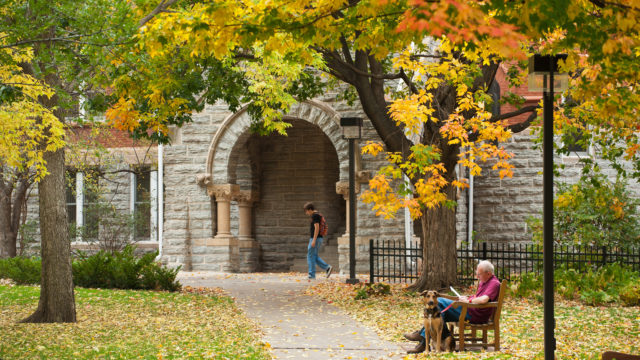 English at Macalester
In the Macalester English Department, we seek to understand the world through literary inquiry. We are acutely aware of the intertwined nature of thinking and writing, of literary criticism and creative production. By paying close attention to language, interrogating our own ideas, and studying and producing creative works, our students not only become more self-aware, but also gain a deeper understanding of the world around them.
Explore Narratives with Renowned Faculty
Our award-winning faculty and staff, like professors Marlon James and Peter Bognanni, are committed to engaging students in the classroom and beyond. Recent courses have included "Literature and the Environment," "Screenwriting," "Comic Book Writing," "Literary Publishing,""Sex and Citizenship," "Demonology: Witches and Devils in Early Modern Literature," "Feasts and Famines in the Nineteenth Century," and "Science Fiction: From Matrix Baby Cannibals to Brave New Worlds," and our faculty members publish scholarly work on a wide range of topics and periods: Shakespeare and justice, human rights and narrative theory, foot-binding in modern Chinese culture, Victorian travelers, and Afrofuturism, to name just a few.
Opportunities to Engage with our Community
Our students participate in a rich and supportive community, one that encourages them to seek out internships, pursue research interests, and study abroad. The department cultivates thinkers, readers, writers, creators, and ultimately more engaged citizens of the world. Recent English graduates have gone on to become novelists and poets, actors, teachers, radio producers, editors, academics, environmental activists, journalists, spoken word artists, directors of nonprofits, social workers, psychologists, grant writers, and lawyers.