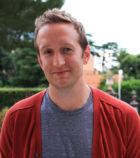 Associate Professor and Department Chair, English
Fiction writing, especially contemporary; creative writing; screenwriting and film studies; humor writing; the contemporary novel.
Old Main, 203
651-696-6557
bognanni@macalester.edu

Peter Bognanni is a native Iowan and a former student of the Iowa Writers' Workshop. His first novel, The House of Tomorrow (Amy Einhorn Books/Putnam 2010) won the L.A. Times Book Award for First Fiction, The Emerging Author Prize at the Iowa Author Awards, and an American Library Association Alex Award. It was a finalist for the Minnesota Book Award and a semi-finalist for the Virginia Commonwealth University Cabell First Novelist Award. It was also a Barnes & Noble Discover Great New Writers pick and an Indiebound Next selection. Peter's short fiction, essays, and humor pieces have appeared in the New York Times Book Blog, The Huffington Post, Large-Hearted Boy, Five Chapters, Gulf Coast, The Bellingham Review, McSweeney's Internet Tendency, Paper Darts, and Revolver. He was the winner of the 2013 American Academy of Arts and Letters Rome Prize, which sent him to Rome on a writing fellowship for the year. Peter is also an occasional screenwriter. He was awarded a Film Independent Screenwriting Fellowship in 2013.
Areas of Study
Fiction writing (especially contemporary)
Creative writing
Screenwriting and film studies
Humor writing
The contemporary novel
Fall 2021 Course
ENGL 150-05: Introduction to Creative Writing FYC
Awards and Honors
Winner: American Academy of Arts and Letters Literature Award, 2013
Winner: The Art Seidenbaum Award for First Fiction, Los Angeles Times Book Awards, 2010
Winner: The Emerging Author Award, Iowa Author Awards, 2010
Winner: The Alex Award, American Library Association, 2010
Finalist: Novel & Short Story Award, Minnesota Book Awards, 2010
Finalist, Barnes & Noble Discover Great New Writers Pick, 2010
Semi-Finalist: Virginia Commonwealth University Cabell First Novelist Award, 2010
Selection, IndieBound Next Award, 2009
Nominee, Pushcart Prize for "The Pad Man Chronicles," 2008
Selection, 100 Distinguished Stories chosen by Stephen King for Best American Short Stories, 2007
BA: Macalester College
MFA: University of Iowa Writer's Workshop