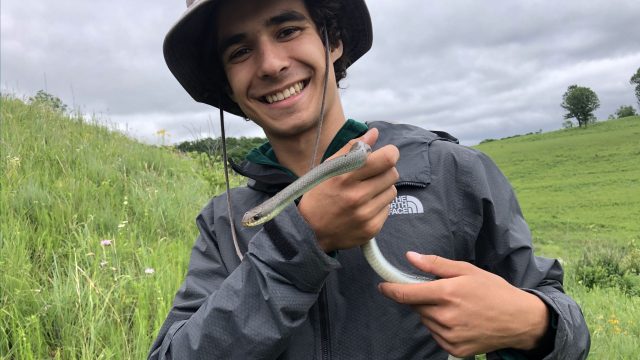 Many students find that internships can be one of the highlights of their college experiences—a chance to try out different career paths, and put their classroom knowledge to use. Macalester's internship grant (MSIG) program means that Mac students don't have to worry about whether or not their internship is paid.
***
Hugh Gabriel '23
Environmental Studies, English
The Prairie Enthusiasts
I spent my summer studying the wood lilies growing at Mounds View Grassland, a prairie to the west of Madison, Wisconsin. The 600-acre prairie is home to a high concentration of white-tailed deer and thirteen-lined ground squirrels. These animals love snacking on wood lilies, which used to be a common plant in Wisconsin. My task was counting the wood lilies, setting up trail cameras, and installing wire cages around them, all in an effort to find the best way to protect them from depredation. Other fun work I got involved with this summer was plant and bat surveys, where I learned a lot about new species from experts. I also kept my eyes peeled for state-endangered regal fritillaries butterflies, and discovered their presence in an area of the prairie where they had not been seen for hundreds of years.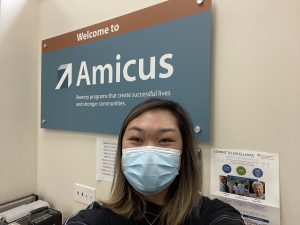 Fanny Chen '24
Psychology
Amicus Reconnect
Amicus Reconnect is a program and drop-in center that focuses on working through the challenges that individuals with criminal records face when they reenter society. Throughout my time at Reconnect, I have assisted clients in acquiring necessities, ranging from housing and job referrals to clothing and hygiene bags. Being able to intern in-person has given me the opportunity to work directly with clients, build professional relationships, and learn about individuals' unique life experiences. Contributing to our clients' journey has been a rewarding and educational experience that allowed me to dive deeper into my interests in this field of work.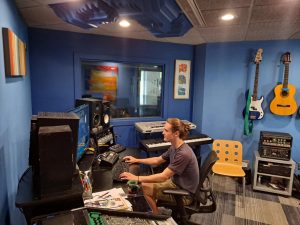 Rhys O'Higgins '24
Music
Paradyme Productions
I interned at Paradyme Productions, a music production and recording studio in Madison, Wisconsin. I came in with some knowledge of recording and mixing, but the experience helped me gain clarity and confidence in my technical skill—whether it be running patch-bays and mic placement, or effectively using an equalizer to perfect a guitar tone. More importantly, I gained invaluable perspective from the process itself. Understanding better what to listen for, and how to listen for it, fundamentally changed and refined the way I approach music in general—
whether in production, practice, or listening—a skill set that will be invaluable to me as a musician regardless of what field I go into. I also gained an understanding of the more concrete aspects of running a studio, from the way clients are procured and scheduled, to the maintenance and back up that goes on behind the scenes to keep everything running smoothly. Overall, I feel better prepared to move into my future knowing and understanding what it takes, and what it truly means, to be an audio engineer/music producer.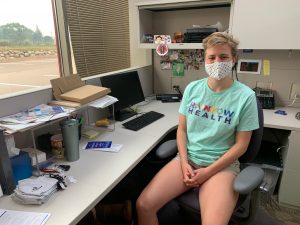 Siri Hoff '23
Economics
Rainbow Health
My main project was conducting audits of Rainbow Health's eLearning modules that are hosted on the digital platform Thinkific. I created a list of recommendations and worked with my supervisor to make the appropriate changes. Though I initially focused on updating the existing content, midway through I was asked to help design a new course on LGBTQ+ Basics. Our goal was to create a module that could help people better understand sex, gender, and sexual orientation in order to provide affirming care to LGBTQ+ clients. After I wrapped up that project, I had the opportunity to co-facilitate a live training that used much of the content from the new module.