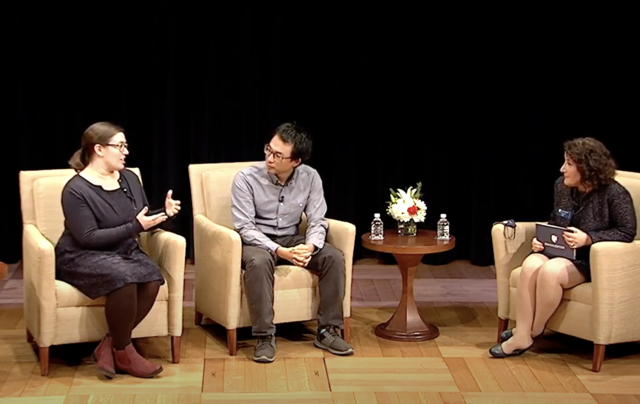 Throughout the academic year, President Rivera talks with faculty and alumni as part of Macalester's Big Questions series. These intellectually stimulating conversations connect people with faculty and President Rivera while digging into the world-changing issues that Macalester is addressing in and out of the classroom. Recently in Chicago, Dr. Leah Witus, assistant professor of chemistry, Dr. Dennis Cao, associate professor of chemistry, and President Suzanne Rivera talked about how to increase trust in science. Below are six takeaways from that discussion.
Just the facts

. When you read about science on the Internet, find reputable sources of information and use critical thinking skills to evaluate arguments. Ask yourself, do I really know the facts? 

Get a PhD

. A great source of information about COVID vaccines is Dr. Witus'

"10-minute PhD" video about how COVID mRNA vaccines work

.  

Embrace nuance.

Scientists can do more to build public trust by embracing nuance and admitting what they don't know as well as by providing recommendations on what they do know. 

Fight back.

Fight a firehose of disinformation about science with a firehose of good information. Learn more about organic chem and other science by following Dr. Cao on Twitter

@denniscao

  

Talking about science

. Learning to communicate better about science is crucial. Next fall, Dr. Witus will teach a new scientific communications course at Mac. 

Scientists are human.

The reason that chemists Dr. Cao and Dr. Witus (who are married) don't have a microwave at home isn't because they know something alarming about microwaves that we don't, it's because they don't have enough counter space in their kitchen. 
Want to know more? Watch the whole conversation