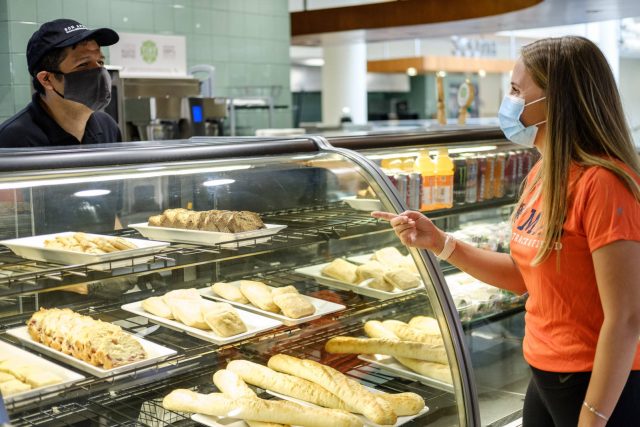 You can find dishes from all over the world in our dining hall, Cafe Mac. Our chefs  make crave-worthy dishes — built on whole grains, deep-color vegetables, fresh fruits, and lean or plant-based proteins — that people look forward to eating every day. But with a little ingenuity, you can create your own tasty recipes, too. Below, the Class of 2021 shares some of their favorite Cafe Mac creations.
Mac-uccino … and chilly fries
Cafe mac coffee with a little soft-serve. Also, on chilly day, put chili on curly fries and top with cheese.
— Maddie Alqatami 
Cafe Mac Egg Salad
Hard boiled egg from salad bar
Mayo from the sandwich bar
Mustard from the sandwich bar
Salt and pepper from the tables
Instructions: Mix and consume
—Emmy Curtiss
Cinnamon toast with a twist
My Cafe Mac secret recipe: naan, honey, and cinnamon sugar
—Tate Nelson Munnich 
Ice cream sundae
Make an ice cream sundae with the waffle toppings in Cafe Mac when it's breakfast for dinner! And if you want, make a waffle too!! It makes a fun dessert!
–Julia Michaela Record 
Tendies
Order chicken tenders at the grille and ask for no side: you'll get more tendies.
—Robert Shepetin
Cafe Mac and Cheese
Milk; plain pasta (pasta bar);
butter + cream cheese (salad bar);
LOTS of cheese (the grille + salad bar). 
Microwave the pasta with butter and milk (2-3 minutes) then add in the rest of the ingredients. The residual heat will perfectly melt the cheese!
—from the mind of Yoonjin Shu