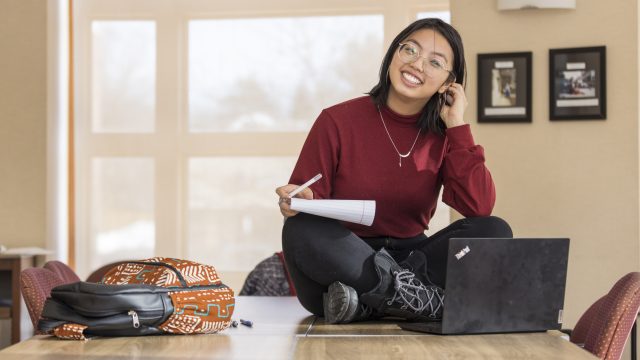 For Peterson, an international studies major with minors in data science and economics, the Mac alumni session was particularly valuable.
Felicia Peterson '22 (Golden Valley, Minn.) was just finishing up her fall semester in Ghana when she decided to apply for Mac Project Corps, a virtual, two-week immersive micro-internship that took place over ten days in January. 
"It was the first time I've been far away from campus," she said. "And it's a little hard to find a job when there is a six-hour time difference, too. So the fact that Mac Project Corps offered a stipend, and that I'd be interacting with people on campus I've never met before, and alums on top of it–it just felt like a good way to get back to the Macalester experience for my last year." 
Offered by the Career Development Center, Mac Project Corps students gained career readiness skills, received guidance from alumni, collaborated on teams to solve a problem for a community partner, and received a $100 stipend for their work. Teams also competed for a $1,000 prize that was awarded for the best community partner plan at the end of the internship. 
This year, more than 100 students participated, Zooming in from places like Senegal, Florida, Wisconsin, California, Kirk Hall, Uruguay, Washington and more to meet with alumni and with three community partners: Ramsey County, the City of St. Paul, and the Loft Literary Center.
The program's first week included career curriculum modules and a virtual office tour with the community partners. 
During the second week, students were placed in working teams of three to five to solve a problem presented by their community partners. 
Peterson and her teammates were paired with the City of St. Paul. They were tasked with a project to promote engagement and participation in diversity, equity, and inclusion work that would reach employees wherever they are across the city–in the field or at their desks. "You can't necessarily offer the same product and expect it to work everywhere," she says. "We built a website draft and gave them some programming ideas." 
Before finalizing their projects, the teams met with Macalester alumni volunteers who provided feedback about the projects and fielded questions about their own career paths. Jon Smucker '08, a partner and portfolio manager for Marietta Investment Partners in Milwaukee, was one of more than sixty alumni who took part. "I volunteered because I thought it would have been really cool to do this when I was in college," he says. Smucker says he would volunteer for Mac Project Corps again, and hopes that future volunteers will have more time with students throughout the project to help them both plan and refine their projects. 
For Peterson, an international studies major with minors in data science and economics, the Mac alumni session was particularly valuable. "I'm a senior, and I have so many questions about the future at this point," she says. "It was really good to ask questions like 'I may not want to stay in Minnesota. How do I make the scary leap to a different state or even country?' I got really good advice from our alumni." 
If you're thinking of applying for Mac Project Corps, or another career development experience, Peterson's advice is to go for it. "No matter what stage you're at, you'll pick up something or you'll meet someone new, and that in and of itself is invaluable," she says. "I remember being like, 'What are we doing?' And the answer is: kind of what you want. Like most opportunities at Macalester or outside of Macalester…it's about how much you take advantage of it and try to make meaning."