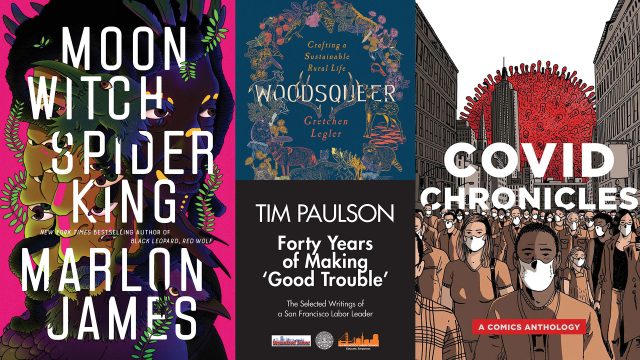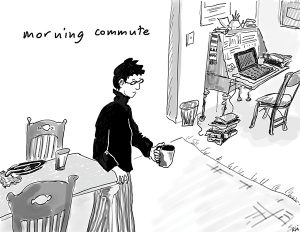 When the COVID-19 pandemic began, Asian Languages and Cultures professor and chair Rivi Handler-Spitz turned to a beloved old hobby to cope with the uncertainty and worry she was feeling: one day in March 2020, she sketched her fears about her parents' exposure to the virus. The next day, she drew again. Before long, her daily drawing became routine, and Handler-Spitz started sharing her work with friends and family via email. Then she committed to keeping her daily project going for at least a year.
In 2021, ten of her comics were featured in The COVID Chronicles: A Comics Anthology, a collection of graphic narratives from artists around the world, edited by Kendra Boileau and Rich Johnson. In November, The Washington Post featured the anthology on its "Best Graphic Novels of 2021" list. And most days, Handler-Spitz still draws. "In the beginning I thought I'd need a reserve of ideas to keep this up," she says. "But over time, I realized there's never any dearth of material. Sometimes it can be cathartic to realize I've come to understand a problem better by drawing about it."
---
Marlon James, Moon Witch, Spider King (Riverhead Books, 2022)
"In the second book of his Dark Star trilogy, James coaxes beauty from dark thoughts, leaving readers with a concaved, mystical, and African-inspired world that begins in free-fall. . . . In a world as thoroughly imagined as J.R.R. Tolkien's, no detail seems spared. Full figured and richly drawn, Moon Witch, Spider King is the bridge of a trilogy and also a creation that, like James' talent, stands alone." —Natashia Deón, Los Angeles Times
---
Gretchen Legler '84, Woodsqueer: Crafting a Sustainable Rural Life (Trinity University Press, 2022)
"After my dip in the pond, I felt a profound physical sense of wellbeing—cool, dry, rejuvenated. Ruth and I sat on a rustic wooden bench in the woods and talked about our days. It came to me suddenly, inexplicably—a powerful yes! I could live in this place, in the woods of rural Maine, for a long time. Maybe even forever. I tested the feeling—pushed against it—like a goat testing a fence. I didn't have to stay here, but I didn't necessarily want to leave. That seemed like something new. Other places I'd inhabited, other lives I'd lived, didn't feel quite right. I'd felt hemmed in by them, constrained; 'trapped' might be a better word. But this place, this landscape of woods and pastures, dirt roads, barns, stone walls, ponds, and old mountains, finally felt like it could be home. And so, when Ruth said she'd found us an almost perfect house, a house we could make perfect for us, I was willing to make a commitment. For better or worse, we felt as if we were ready—for each other, for the house, for the land, and for a farming, gardening, and foraging way of life. I had no idea in the beginning how that commitment would be tested."
---
Tim Paulson '75, Forty Years of Making 'Good Trouble': The Selected Labor Writings of a San Francisco Labor Leader (Senders Publishing, 2021)
Tim Paulson '75 recently retired after a career that included being the first person to lead the over 150 unions of both the San Francisco Labor Council, AFL-CIO, and the San Francisco Building and Construction Trades Council. Over the years, his efforts included collective bargaining, policy research, legislative campaigns, and get-out-the- vote efforts. "Everything I did was for people to have a voice at work," he says.
Making History: Our labor council ran a legislative campaign for a bill called the San Francisco Health Care Security Ordinance, to get employers of more than twenty people to provide health care. [US Representative and Speaker] Nancy Pelosi brought it as part of the national legislation that became the Affordable Care Act. That all started here in San Francisco, and I'm pretty proud of the campaign we developed to make it happen.
Formative Lesson: When I was a young organizer, some construction workers told me they'd like to join our union. We did a very thorough campaign with the workers, and almost all of them signed cards pledging to join. I was a monitor at the union election, and as they walked past me, I could tell something was askew—they wouldn't look me in the eye. All of their votes flipped, and I found out later that the boss and foreman had gone to their houses and threatened their employment, which is against the law. That changed how I approached union elections. We started trying out other tactics: getting out on the street, threatening boycotts, bringing in politicians and people from faith communities, doing media campaigns.
Advice for Organizers: I tell organizers that it's not about you—you're not coming in as a knight in shining armor. It's about the workers. Harry Bridges, who led a citywide strike in San Francisco in the 1930s, said, "We don't do anything unless the workers want it." You have to always listen to the workers.
---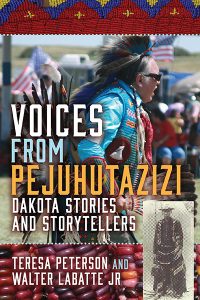 Jonathan Leo '86, Medical Neuroanatomy for the Boards and the Clinic (Springer, 2022)
Kathleen West '99, Home or Away (Berkley, 2022)
Jillian Scudder '09, Astroquizzical: Solving the Cosmic Puzzles of Our Planets, Stars, and Galaxies: The Illustrated Edition (MIT Press, 2022)
Walter LaBatte Jr. '70 and Teresa Peterson, Voices from Pejuhutazizi: Dakota Stories and Storytellers (Minnesota Historical Society Press, 2022)
Katya Tylevich '06, author of Gus Van Sant: The Art of Making Movies (Laurence King, 2021) and editor of The Marina Abramovic Method: Instruction Cards to Reboot Your Life (Laurence King, 2022)
Heidi Waterhouse '99, Jared Bhatti, Zachary Sarah Corleissen, Jen Lambourne, and David Nunez, Docs for Developers: An Engineer's Field Guide to Technical Writing (Apress, 2021)
Corina McKendry '98 and Nik Janos, editors, Urban Cascadia and the Pursuit of Environmental Justice (University of Washington Press, 2021)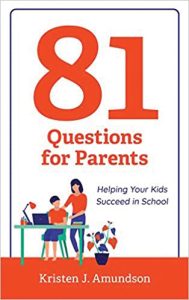 Kris Amundson '71, 81 Questions for Parents: Helping Your Kids Succeed in School (Rowman & Littlefield, 2021)
Kate Bowler '02 and Jessica Richie, Good Enough: 40ish Devotionals for a Life of Imperfection (Convergent Books, 2022)
Lei X. Ouyang '97, Music as Mao's Weapon: Remembering the Cultural Revolution (University of Illinois Press, 2022)
Dan Leon '02, Arrian the Historian: Writing the Greek Past in the Roman Empire (University of Texas Press, 2021)