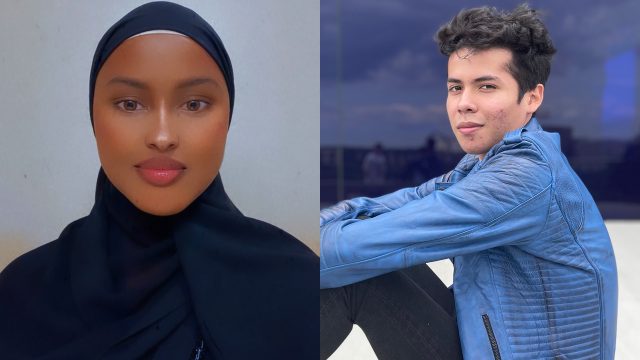 Saint Paul, Minn. – Macalester students Ikran Noor '24, Juan Carlos Pineda '24, and Linda Lor '24 are among the 123 undergraduate scholars across the country to receive a Fund for Education Abroad (FEA) award. FEA's mission is to provide scholarships and ongoing support to students who are underrepresented among the U.S. study abroad population.
Noor is an American Studies major who plans to study in Copenhagen this fall. She chose the Danish capital because she hopes to be an attorney and there's a strong program in human rights law that will allow her to study the Danish criminal justice system and humanitarian law in armed conflict. Noor grew up in Minneapolis and has never left the country before. 
"Being in a new space, getting to meet different people, being engaged in culture – this is one of the reasons I came to Macalester to begin with," she said.  
Noor said she plans to use the $5,000 FEA award for transportation and living costs, along with art supplies for the watercolor class she's looking forward to taking. 
Like Noor, Pineda also plans to study in Copenhagen and use his $5,000 award for travel and living expenses. The neuroscience major from Oklahoma City said the main reason he chose the program is because of the strong research opportunities in neuroscience, as well as the chance to experience Denmark's universal healthcare system in action.
"I'm going there to learn from different professors, take different classes," said Pineda. "And I feel having this new experience with different kinds of people with different everyday lived experiences will help me grow as a learner and as a neuroscience major."
As a first-generation college student whose parents are undocumented immigrants, Pineda has never had the opportunity to travel abroad. He said the FEA award allows him to have this meaningful experience without the additional financial stress. 
"It costs a lot of money to study abroad for one semester," he said. "So for me, it was really beneficial to get this award because that meant I don't have to try to find ways to get money, and my family doesn't have to worry about it. I can just go there and focus on my studies, which I definitely appreciate." 
The third Mac student to receive an FEA award, Linda Lor, plans to study in Hungary. 
About the Foundation for Study Abroad 
According to the website, the Foundation for Education Abroad was established in 2010 to address the need for an independent scholarship provider to enable more American college students to study abroad. FEA is the only national non-profit study abroad scholarship provider funded exclusively with philanthropic support, and the only independent organization dedicated to providing scholarships to students who are least likely to study abroad.