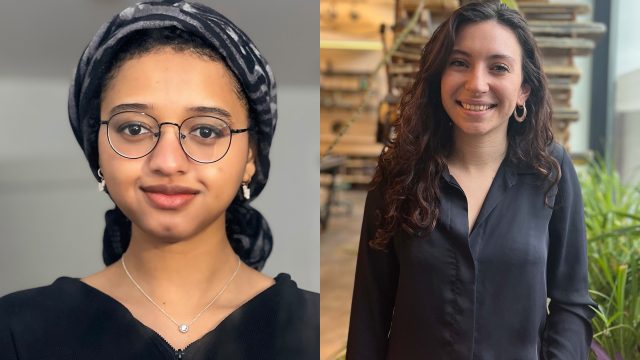 By Talia Bank '23
Macalester students Yosan Worota '23 and Alice Bruno '23 have been awarded $10,000 grants from the Davis Projects for Peace program. The program supports a cohort of students who design and implement their own community-centered, peacebuilding projects during the summer break. 
Worota's project was inspired by her experience as an Eritrean refugee in Sudan. This summer she will explore ways to increase access to education for refugee students in Khartoum, Sudan's capital city, which has been rocked by ongoing civil demonstrations since 2019. Refugee communities in Sudan have become especially reluctant to send girls and young women to school amid the protests. With her project, Worota will focus on how to get these students to and from school safely.
"The streets are dangerous and the demonstrations have not been allowing girls to safely attend their classes. Not that guys aren't being attacked, but talking with the community in Sudan, they have voiced that girls are more disadvantaged in the situation. This will affect their grades and whether they will graduate or continue their education," said Worota. 
Initially, her plan was to create an online forum for the refugee community in Sudan to coordinate transportation and share educational resources. With the Davis funding, Worota now plans to purchase a minibus to provide safe and reliable transportation for students and work with the organization Shattered Ceilings to offer college and career services. Additionally, Worota has created a website to serve as a platform for sharing tips about college applications, scholarships and other educational opportunities. 
She hopes that her project will not only support the long-term success of refugee students, but also raise awareness of the unique challenges that displaced communities face. 
"Given the current situation in Ukraine, people are much more aware of refugee crises and the thousands of people that are being displaced from their homes. I would like to implore Macalester students to take advantage of courses on campus and to do their own research, because at the end of the day, this is a reality for some of us," said Worota. "I want my project to serve as a hub or a space where one can practice their global citizenship." 
Alice Bruno's project focuses on a problem she recognized reflecting on her experience as a former student in Sicily after studying abroad through the United World Colleges (UWC) program. Having been educated in an environment where sex education was not taught in schools, Bruno's first exposure to any guidance on sexual health and concepts like consent was as a 17 year-old college student. This sparked a commitment to increasing access to sex education in Sicily.
"I promised to myself I would do everything in my power to make sure that no other people at home had to wait until they had the opportunity to go abroad to learn the word 'consent'," Bruno said.
To address the issue, Bruno has partnered with Maghweb, an organization based in Palermo, to plan sex education training sessions for educators and utilize social media to gather feedback from students. 
"There is a reluctance to expose teenagers to these topics because they're still perceived as taboo. Getting into schools would be ideal, but we don't have that institutionalized channel yet," she said. "The plan for now is an intensive two-day training for teachers and youth workers with a culturally-specific curriculum. The second goal is to keep engaging with youth because we want to know what they need in terms of sexual health." 
For Bruno, her participation in the Davis Projects for Peace is a natural extension of her time as a student of the UWC program, another initiative supported by the Davis Foundation. 
"It's a project for peace, so you take what you've learned in the years that you've been abroad, and then you turn and apply it to a cause that's dear to you" she said. "It very much aligns with the values of UWC at large and I had always known that I wanted to do something like that."
About the Davis Projects for Peace 
Established in 2007 by the philanthropist, artist, and activist Kathryn Wasserman Davis, the Davis Projects for Peace is a global program that provides 100 students annually with $10,000 in funding towards enacting an actionable, community-oriented, and peacebuilding project. Now in its 14th year, Projects for Peace has awarded 1,800 grants to support projects in 139 countries by students from more than 100 partner institutions.