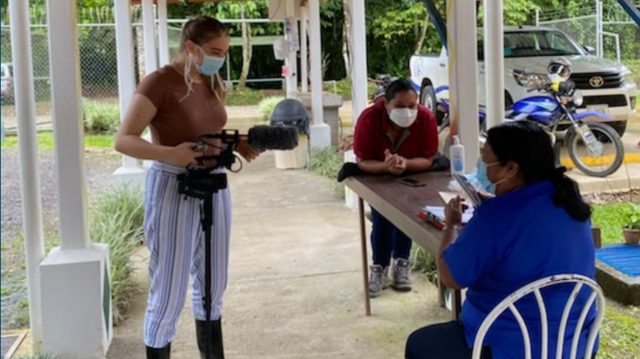 By Emma Salomon '24
"Sometimes we forget that there are people dying from something as ridiculously old and well-known as snake bites," says Chloe Vasquez '24. She is spending the summer in Costa Rica making a documentary about snake bites through Macalester's Live it Fund grant.
What started my project
My mom was bitten by a snake in Costa Rica recently. When I went to care for her in the hospital, I learned that in 2017 snake bites were declared one of the most neglected tropical diseases. Snake bites mainly affect poor agricultural workers who can't access expensive treatment. My mom was lucky she was bitten in Costa Rica—they are the world's leader against snake bites. Because of their care, she was able to keep her leg and only lose her appendix. Lots of people are not as lucky as my mom. To raise awareness I decided to make a short ten-minute documentary and a podcast about the socioeconomic issues of antivenom called venom caste. I hope it inspires people to join the force of people working on this cause. 
Helping hands
The Live It Fund gave me a sizable stipend for my project but what I have really valued is the support and guidance of the program staff. They've helped me connect with alumni who have connections in Costa Rica as well as helped me physically make the documentary with cameras, podcasting equipment, and software for video editing. The staff has really held my hand and made this so much more attainable. This whole experience is really because of their help.
Daily tasks
Every day is incredibly different as I travel around Costa Rica interviewing victims and their families, talking to researchers about their potential solutions, and meeting with policymakers about next steps.
Best day
I went to a biological reserve, which involved hiking an hour through the jungle. I was slipping and falling while trying to fall strategically so that the camera equipment didn't land in the mud. I was sweating profusely. But, somehow it was just so fun! When I got to the reserve the guy who oversaw the biological reserve was very serious but after our formal interview, he just turned on reggae music so loud and we all just started dancing! It was such a great time!
Takeaways
I feel like I've come full loop, from being a daughter watching her mom struggle to knowing how lucky she was. As I learn more, it's giving me a sense of closure about my mom's snake bite. 
This experience also made me realize that I'd like to pursue a degree in health or health economics. It's really reaffirming to learn new things every day and work with these amazing professionals.