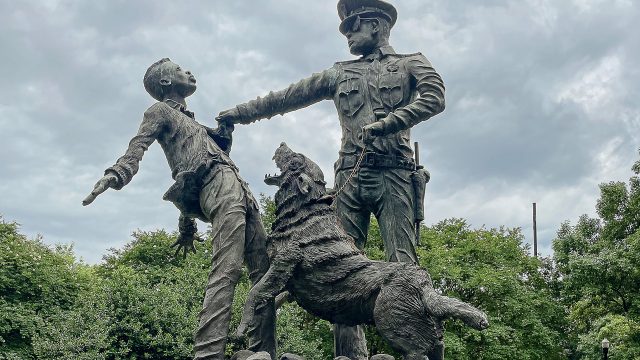 By Rebecca DeJarlais Ortiz '06
When it comes to studying history, History Department chair and longtime civil rights organizer Walter Greason knows that books are a vital starting point. He also knows that words and descriptions can only go so far.
"It's one thing to read a page in a book about the Civil Rights Movement," he says. "But it's another thing entirely to walk down a street in Montgomery, Alabama, and see the Confederate White House, and see how white supremacy is entrenched in day-today life. You don't get that in a mediated experience like a book or a film."
This past spring, Hana Dinku, the director of the Department of Multicultural Life—along with Civic Engagement Center associate dean Sedric McClure and Greason—helped a group of Macalester students experience that firsthand, through immersing themselves over nine days in May in some of the places that shaped the country's Civil Rights Movement. Following the life of Dr. Martin Luther King Jr. from Georgia to Alabama to Tennessee, the group learned about the thousands of people—including Claudette Colvin, James Baldwin, Ella Baker, Fannie Lou Hamer, Bayard Rustin, and Lillian E. Smith—who organized the movement that King mobilized. Their twelve-hour days balanced museum visits, meetings with scholars and other experts, and time for discussion and reflection.
Earlier this year, the Department of Multicultural Life-led pilot project became the first initiative to be selected to receive funding from the Macalester Fund's Racial Equity Support designation, to which more than 750 donors have contributed since the designation's inception in 2020. The DML adapted a curriculum and itinerary developed and shared by community collaborator and former Macalester staff member Cynthia Fraction. Through an application process, seventeen students representing a wide range of academic disciplines, class years, and lived experiences were selected to participate.
Coordinating the logistics—especially amid surging travel expenses and an ongoing pandemic—was no simple feat. But each day, the program reaffirmed the trip leaders' belief in the power of experiential learning as students deepened their knowledge, challenged the narratives they encountered in their education so far, and made new connections about how the past shapes the present.
Now spread out around the world, the students will begin to process how to carry what they learned into classroom conversations, semesters abroad, and summer internships. "An immersive educational experience like this Freedom Ride has its greatest impact in the months and years to come," Greason says. "These students became leaders for civil and human rights through this journey."
Several students reflect, in their own words.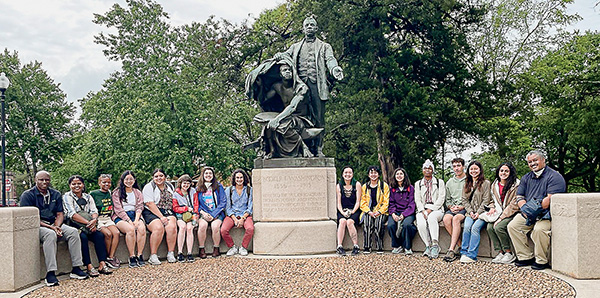 ---
I loved the museums we visited—they tell stories in so many different ways, and you just get absorbed into it. When we visited the Legacy Museum in Montgomery, we arrived at 9 a.m. A while later, I thought we had been there for about an hour, and I looked up and saw that it was 12:30 p.m. I just didn't notice the time passing, and everyone else had already left. I've never been to a museum like that in Brazil. I was talking with a friend who's also an international student and we're like, "We want to build a museum in our countries now"—a museum that can tell this story to our countries as well. —Alessandra Rosa Policarpo '24 (Belo Horizonte, Brazil)
One night in Memphis, we had free time, and a group of us went to this place called King's Palace on Beale Street. At Stax Records, we had learned about how blues and funk and soul and rock and roll were all born to some degree out of the Civil Rights Movement—turning pain and anger and hatred into love through music. That night, a group played rock and roll and funk on a little patio for about two hours. We danced that whole night until I was dripping in sweat. I think that was my favorite moment from the trip. It was amazing to see it all in action on Beale Street. I was caught in this one moment in this wave of historical significance carried through the Civil Rights Movement on this street, in this place. —Razik Saifullah '24 (Hudson, Wis.)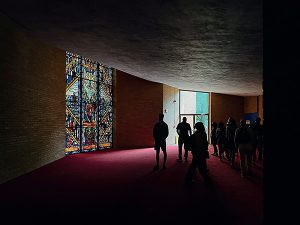 Just as our visits with professors and to various museums provided a lot of important information, I felt what was equally important was leaving these spaces and getting to talk with the faculty and other students afterward. Alongside the specialists' perspectives, we also shared valuable criticisms with each other, which was one of the most influential aspects of this experience for me. I used to feel insecure about questioning the limited ways Black history is told, including by Black people, since I haven't been exposed to many examples of trans and disabled perspectives being made explicit in this history. The moments I was supported during this trip in being critical helped to affirm for me that it is not only okay but actually necessary for me to question the way our narratives are told. With this in my heart, I intend to be more vocal to elevate trans and disabled realities of our predecessors that are otherwise made invisible. —Ariadne Smith '23 (New York)
We saw how much the history of the Confederacy shapes the present. We visited the first Confederate White House, which didn't talk about the legacy of slavery and referred to the Civil War as the War of Southern Independence, with a much more sympathetic tone toward Jefferson Davis. In Montgomery, we saw the Davis Theatre across the street from the Rosa Parks Museum. Two days after the school shooting in Uvalde, we visited the 16th Street Baptist Church in Birmingham, where four girls were killed in a bombing in 1963. That was one of the most emotional days for me. It was heartbreaking to see the connection between how the Texas children were described in the news and how the four girls were described in the memorial.—Ryan Cotter '24 (Mercer Island, Wash.)
The Legacy Museum in Montgomery was the most intense and painful day for me, because the museum is so immersive and effective at conveying how much pain was purposely and consciously inflicted on Black people. At the end, you reach the Reflection Room. The ceiling is golden and reflecting all the light around it, so it's shimmering. There are huge quotes on the wall: "We shall overcome," "Let us march on till victory is won," and there's gospel music playing in the background. That's when I really realized: I want to be part of this movement that's not going to stop.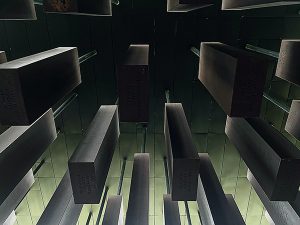 The same day, we went to the National Memorial for Peace and Justice. There are iron columns that represent each county in the US where lynchings happened. On each column are the names of all the people who were lynched. You go into this building where these lines and lines and lines of columns are just facing you. And then you go down this wooden ramp, and when you're at the bottom, you look up and see all of the columns hanging above you as a literal representation of looking up at people who were lynched. Professor Greason said it best: from the vertical oppression of the iron columns and this daunting lighting, it feels like you're drowning in blood. —Razik Saifullah
I'm from Brazil, and my family has African ancestry. People don't usually know this, but Brazil received actually more African people than the United States. Since I was a child, I was curious: Why was my hair not the same as the "good hair"? Why was I treated differently? Or why was I always trying to be white? And of course, we have this racism and colorism in Brazil—the darker you are, the more you suffer.
I started researching the history of enslaved people in North and South America. And when I came to the United States, I was very curious to see what the dynamics were like here. I started taking some classes about Latinx communities, and a class last summer comparing Brazil with the United States after slavery. And then when I saw the civil rights trip, I was so curious to learn more about this history and to see the differences and the similarities in Brazil, and how it can help me better understand the racial dynamics in both Brazil and the United States. —Alessandra Rosa Policarpo
I feel humbled by the trip. I realized I didn't know half as much as I thought I did about the degree of violence that happened, the lengths to which white people went to make sure Black people couldn't thrive in the United States. I feel a lot more confident now in knowing when something stems from white supremacy. I know how I hold it in me from its systemic grip, and I know that I want to do better. —Razik Saifullah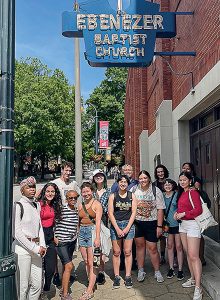 On the end of my first day, it really sunk in that this wasn't just going to be an educational experience for me. I felt a responsibility that I didn't realize before: to bring what I learned to the rest of the Mac community. And I'll be honest—during my last few days there, I was also very nervous. How will I act on what I've learned? How will I keep learning? What if I do the wrong thing? Am I really capable of helping to contribute to something, the necessary change possible? And as part of the next generation, what comes next within this greater journey of United States history? That's daunting.
College students like me led a lot of the protests in the Civil Rights Movement. I'm halfway done with college, and it made me ask myself what I could've done, and what I can be doing now. People think being an activist is just being on the front lines and showing up at all the protests. But there's so many different roles you can take on. I saw that the most important actions you can take start locally, rather than trying to change the whole world all at once. It all adds up over time. —Ryan Cotter
At the start, we had an established reflection time, usually after dinner. But as the trip went on and reflections were becoming more profound, they started to become laced throughout everything we did. We'd talk on bus rides, during lunch and dinner: we'd ask, "So, what did you think?" and it would sprawl into an entire discussion. We started to formulate our own questions and possible answers, and it was really interesting to see the group dynamic evolve throughout the trip. Our supervisors became a lot more open, and students became a lot more candid with their reflections, too.
This was probably one of the most educational and reflective weeks of my life. I want so badly for this trip to happen annually. This kind of travel—four cities in one week—is something that a lot of Macalester students couldn't have afforded on their own. The fact that this trip was paid for by Macalester took so much burden off so many students. It's an incredible opportunity that's so accepting, with so many warm people and intentionality behind what they're choosing to expose you to and with so much classroom and real-life experience. —Razik Saifullah
I left the trip feeling empowered. I feel inspired to tell this story and see how I can apply this back home as well. It's kind of hard to explain to my family what it's like to live here, because I think many people who have never visited the United States think about this American Dream. I have more confidence now to talk with my family about this history, and I understand how events today connect with what happened in the past. I think every person in the United States should visit these places and these museums. Everyone should go through this experience to learn and work to build a good society, everyone together. —Alessandra Rosa Policarpo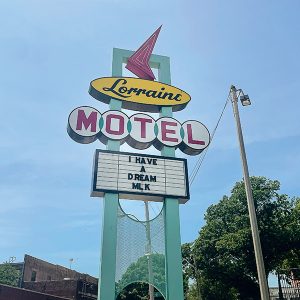 The guides
Hana Dinku
Director of Diversity Education, Leadership, and Inclusion; Department of Multicultural Life
"Immersive programs and experiential learning were pivotal moments in my own education—I know how valuable this is."
Water Greason
Professor and Chair; History Department
"It's one thing to read a page in a book about the Civil Rights Movement. It's another thing entirely to walk down a street in Montgomery, Alabama, and see the Confederate White House, and see how white supremacy is entrenched in day to day life. You don't get that in a mediated experience like a book or a film."
Sedric McClure
Associate Dean and Co-Director; Civic Engagement Center
"I want students to be familiar with the players, situations, and circumstances that led to bringing our lived experiences closer to the American ideal. The Civil Rights Movement is American history, and it's full of pain and possibility."
The itinerary
Day 1
Class: Downtown Atlanta tour with entrepreneur King Williams
Group reflection time
Day 2
Class: "Lillian E. Smith, A White Woman Dedicated to Dr. King's Work," Dr. Matthew Teutsch, Piedmont University
Lunch at Paschal's
Class: "Civil Rights and the Atlanta University Center," Dr. Tanya Clark, Morehouse College
Group reflection time
Day 3
Drive to Montgomery
Rosa Parks Museum
Group Reflection Time
Day 4
The Legacy Museum and National Memorial for Peace and Justice
Class: "Booker T. Washington: Tuskegee University as the Real Wakanda," Dr. Kwesi Daniels, Tuskegee University
Group Reflection Time
Day 5
Drive to Birmingham
16th Street Baptist Church
Kelly Ingram Park
Group reflection time
Day 6
Drive to Memphis
Slave Haven Underground Railroad Museum
Cotton Row
Group reflection time
Day 7
Ida B. Wells Plaza and Statue
Stax Museum of American Soul Music
Class: "Master Narratives: A Critical Look at the National Civil Rights Museum," Dr. Charles McKinney, Rhodes College
Group reflection time
Day 8
National Civil Rights Museum
Lunch at Central BBQ
Afternoon: Free time
Group reflection time
The Music
As soon as the itinerary began to take shape, Hana Dinku says, she knew it had to include music: "We wanted students to understand the beautiful culture that's come from the ways in which Black folks have resisted and constantly struggled—the incredible way of capturing the pain and raw emotion—as well as the joy and creativity and celebration of the Black identity." In addition to contributing song ideas themselves, Dinku, McClure, and Greason invited the guest lecturers to share the music that resonates with them, and also asked students to contribute songs that helped them better understand what the group was learning. Here's a selection from their list (listen on Spotify):
"Say Her Name (Hell You Talmbout)," Janelle Monáe
"Georgia On My Mind," Oscar Peterson Trio
"Alabama," John Coltrane
"Rock N Roll," Mos Def
"Higher Ground," Stevie Wonder
"Speak Now," Leslie Odom Jr.
"Strange Fruit," Billie Holiday
"The Revolution Will Not Be Televised," Gil Scott-Heron
"Revolutionary Generation," Public Enemy
"Imani I," Grupo IMANI, Dessa Ferraira
"A Change is Gonna Come," Sam Cooke
"Mississippi Goddam," Nina Simone
"Stand Up (from Harriet)," Cynthia Erivo
"Lift Every Voice and Sing," The Boys Choir of Harlem
Recommended Reading
Professor Walter Greason compiled a list of readings for students, including these titles:
Reconstruction: America's Unfinished Revolution, Eric Foner
Industrial Segregation, Walter Greason and David Goldberg, eds.
How the Suburbs Were Segregated: Developers and the Business of Exclusionary Housing, Paige Glotzer
Right to Ride: Streetcar Boycotts and African American Citizenship in the Era of Plessy v. Ferguson, Blair Kelley
Demonic Grounds: Black Women and the Cartographies of Struggle, Katherine McKittrick
Creating Black Americans: African-American History and Its Meanings, 1619 to the Present, Nell Irvin Palmer
Clean and White: A History of Environmental Racism in the United States, Carl Zimring