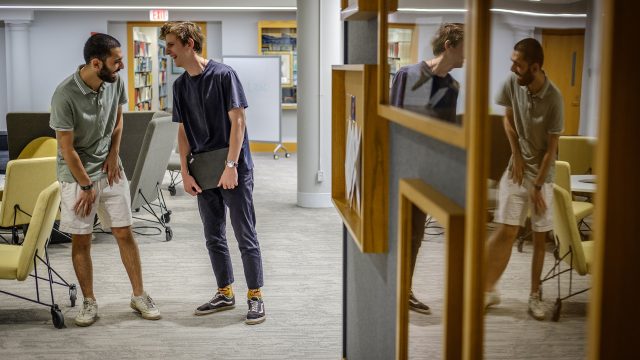 By Emma Salomon '24
With help from MacStartups, two Macalester students hope to connect Ukrainians displaced by the war in their region with employers in the United States. Anatoliy Cherednichenko '23 and Gurgen (Gugo) Babayan '24 started this work in the spring semester with the group Mac4Ukraine campaign, which raised more than $12,000 for Ukrainian aid. Now, they are continuing their efforts by creating a website.
"Our website aims to increase the chances of Ukrainians being hired by businesses in the US that will support their specific needs," Cherednichenko says.
MacStartups support
Anatoliy: This summer, I wanted to create something on my own. [The eight-week intensive program for student entrepreneurs] MacStartups gives me not just the resources from a stipend and seed money, but also the expertise from industry experts to help improve our product. Our weekly cohort meetings, as well as the advice of our mentor, have been invaluable. 
Gugo: The program has facilitated channels of communication and learning. Even though the speakers and mentors are incredibly successful, they have gone out of their way to help us. Without them, our product wouldn't be nearly as clear and feasible. 
Personal connections
Anatoliy: I grew up in Crimea and personally know many people who have lost their jobs, parents, and houses since this war began. Being so far away from my friends and family makes me feel disconnected but also highly motivated to use my outside privilege to help others.
I knew I wanted to develop more sustainable support for Ukrainians and I realized MacStartups gives me the time, expertise, and funding to create something that will have a lasting impact.
Gugo: As a person who has experienced war and conflict, I know the frustration of being an ocean away and feeling helpless. I joined Anatoliy because I realized with this we can actually make a difference. I'm also excited to expand the platform to other groups of refugees who are experiencing financial insecurity. 
Making alumni connections
Anatoliy: We really appreciate our mentor Ali Alizadeh '85. Like us, he was an international student at Mac who has become incredibly successful. His business expertise is invaluable. 
He's also a great person to talk to and often invites us to his house for meals. Over one lunch, he told us we had progressed and learned a lot. Getting that validation from someone so successful really has stuck and motivated us.