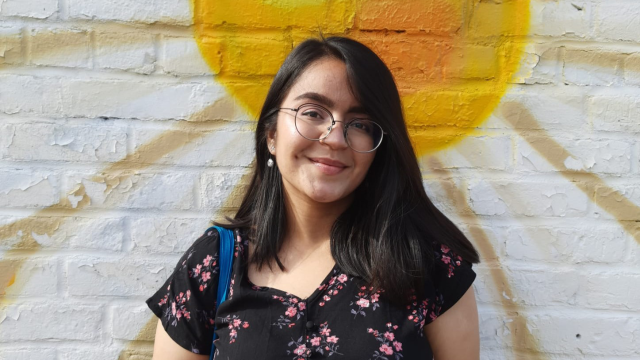 Every October, Macalester hosts the International Roundtable, a community-wide and globally-focused forum exploring critical issues from a variety of perspectives.  This year marks the 29th Annual International Roundtable "On the (Im)Possibilities of Decolonizing Knowledge and Power," Thursday and Friday, October 13-14.
What makes this event especially interesting for students is the chance for them to take a deep dive into a subject that interests them. Students spend months planning and researching their topics to present to their peers and to professionals in the field.
"It has been exciting to work over the last few months, beginning with brainstorming and figuring out the broadest possible branches of this work while reflecting on positionality and then narrowing it down," says Uditi Chandrashekhar '24.  "There is something special about working with incredibly insightful people in somehow containing this plethora of wisdom into a 1-hour session. I have really appreciated the rhythm and momentum of planning, both with IGC staff that make this possible and the leaders with whom I get to work. I am also grateful for the theme this year." 
There are seven student-led sessions this year.  
Dipakshi Sarma '24 says, "I am excited about the idea of having small groups where people can be vulnerable and share any story of decolonization in their lives (be it positive or negative) and see each other as human beings with diverse experiences. As I have learned from being in Lives of Commitment and from staff member Eily Marlow, who mentored me from the day I came to Mac, small groups welcome people to let their guard down and ease into vulnerable conversations. This session is really about what Uditi and I have learned from people and communities in our lives and this is one way to celebrate those people, their lessons and our traditions, like storytelling, that remain integral to South Asia, even after colonization." 
A warm congratulations to all our Mac students who facilitated the student-led sessions:
"Who Tells Your Story? Post-independence Hyper-Nationalism, Ethnocentrism, and the National Curriculum," Jess Nguyen '24 and Khant Wai Yan '25
"Russification and Resistance," Talia Ostacher '25 and Aliya Nadeeva '24


The world has watched the terrible events in Ukraine unfold, which the Russian government attempts to justify as protection of the ethnic Russian minority in Ukrainian territories. This question of protection draws attention to the ethnic minorities in Russia itself. In this session, we will discuss the largest minority in Russia—the Tatars—and their challenges throughout history. For centuries, the Russian government tried to russify the Tatar minority by oppressing them, yet Tatars managed to preserve their identity and pass it along to generations of today! This story of resilience is relevant not only to Tatars, but other ethnic minorities. To learn more and help preserve the Tatar story, come learn about Tatar culture, language, and politics from a local student.

"Re-Storying Indigenity as Praxis of Decolonization," AJ Papakee '23 and Zaryn Prussia '23
"Decolonizing Beauty Standards 101," Rola Cao '25 and Zhihao Liu '24
"StoryTelling: A Decolonial Praxis in Personal Accountability and Compassion," Uditi Chandrashekhar '24 and Dipakshi Sarma '24
"Decolonization in Turtle Island and Palestine and the Role of Jewish Resistance," Gabe Karsh '25 and Emily Thorpe '25
"Content Creation as Decolonisation: An African Perspective," Chevonne Kwarisiima '24 and Michelle Osiro '24


We are excited to be leading this panel discussion with amazing content creators with African heritage who have used their platforms to redefine what digital storytelling looks like. Their focuses range from literature and finance to travel and lifestyle. Through their work, they pursue decolonization by affirming the agency of Africans within the continent and in the Diaspora.
Visit the International Roundtable website to view a complete schedule of events.