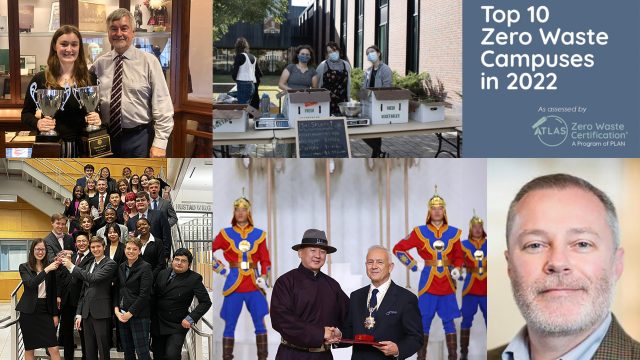 Maccolades is a monthly round-up of the most recent accolades and accomplishments earned by members of the Macalester community. Below are highlights from November 2022.
Professor emeritus receives Mongolia's highest honor
Mongolian President Ukhnaa Khurelsukh conferred the Order of Genghis Khan, the country's highest state award, to  Jack Weatherford, DeWitt Wallace Professor of Anthropology, emeritus. This award recognizes those who have made contributions to strengthening national unity, deeply studying the history and culture of Mongolia, and familiarizing other countries with Mongolian culture. Dr. Weatherford, who wrote the 2004 book, Genghis Khan and the Making of the Modern World, became the first foreigner to receive the honor. 
"It was a long day of ceremony, from a private meeting with the President, marching through a lineup of Mongolian mounted horsemen, two concerts, all the way to a late night dinner with the prime minister in his home," Dr. Weatherford said. "The President ordered that a new portrait be painted of me and hung in the government palace. My mind is a jumble now. I have no words. Mongolians have given me so much more than I have given them." 
Bagging awards
Zippa Curiskis '25 won Champion Supreme awards in both categories in Grade 1 (the highest amateur grade) from the Midwest Pipe Band Association. Curiskis won the "Light Music" and "Piobaireachd" categories. "It's exciting to earn this honor because I am the first woman to win both titles in the same season," she said. "I competed at five different bagpipe competitions, and my overall placings were the highest in Grade 1."
Think tank invitation
Political Science Professor Andrew Latham was named a senior fellow at the Institute for Peace and Diplomacy, a nonprofit and non-partisan North American international affairs think tank in Ottawa, Canada. "It is a recognition of my public-facing international relations scholarship," Dr. Latham said. "I will be part of an international network of scholars promoting a more restrained, less belligerent U.S. foreign policy." 
Let's mock and roll
Macalester's Forensics team swept St. Olaf's Ole Open mock trial tournament. Out of 21 teams, Macalester teams placed 1st, 2nd, and 4th. "It is exciting to have our whole program doing so well and highlights the depth of this year's talent," said Lia Pak '23. "Students put in a lot of time and effort to prepare for tournaments, so it is rewarding to be recognized by the judges!"
Tournament champions were Pak, Austin Wu '23, Sariya Stowers '23, Amarah Friedman '25, Lily Morgan '25, Alfredo Olaguez '24, David Truman '26, and Jessica Yang '26.
Second place went to Jeremy Hubinger '23, Spud Webb Tu '23, Will Robertson '23, Alice Ma '24, Jean Pateman '25, Ainsley Meyer '26, Nicole Emmerson '26, and Chantal Pangula '26.
Placing fourth was the team of North Carpenter '23, Rylan Mueller '25, Ryan Connor '25, Francesca Brown '25, Maita Mungah '26, Willow Albano '26, Kai Tan '26, and Sarah Sylvester '25. 
In addition to team placement, Robertson, Pak, Mungah, and Morgan received Outstanding Witness Awards, and Stowers, Carpenter, Hubinger, and Wu earned Outstanding Attorney Awards.
Serious about leisure
Robert A. Stebbins '61 received the 2022 book prize from the Leisure Studies Association for The Serious Leisure Perspective: A Synthesis. "This book is my magnum opus; a synthesis of my extensive exploration of leisure activities that began in 1973," Dr. Stebbins said. A reviewer wrote: "The serious leisure perspective is a paramount theory in leisure services/studies. The book explains the SLP with depth, clarity, precision, accuracy, and with great logical order."
Dr. Stebbins has published 60 books, including The Committed Reader (2013), Planning Your Time in Retirement (2015) and Occupational Devotion (2022). "My formation at Mac as a liberal arts scholar fueled my approach to doing exploratory research on amateurs in music, archaeology, baseball, entertainment magic, and several other fields," he said. "Similar research occurred subsequently on hobbyists and volunteers."
Cheers from the Tate Modern
Joanna Inglot, Edith M. Kelso Associate Professor of Art History, wrote one of the definitive books about the 20th century Polish artist Magdalena Abakanowicz. Her research has been heralded by the Tate Modern as the foundation of their exhibit Magdalena Abakanowicz: Every Tangle of Thread and Rope that will run through May 2023. Professor Inglot's book, The Figurative Sculpture of Magdalena Abakanowicz: Bodies, Environments, and Myths, was cited as "pivotal" and "groundbreaking" by the famed curator Mary-Jane Jacob. Dr. Inglot was flown to London as a special guest for the opening. 
Ion the prize
Chemistry Professor Dennis Cao received a $75,000 grant from the Camille and Henry Dreyfus Foundation through their Teacher-Scholar Award Program. This award supports the research and teaching careers of talented young faculty in the chemical sciences who have demonstrated leadership in original scholarly research of outstanding quality, substantially with undergraduates, as well as excellence and dedication in undergraduate education. The grant funds will support the creation of a Little Free Chemistry Library and a research project into new sulfur-containing molecules that are predicted to have interesting optical and electronic properties.
May it please the court
This fall, Moot Court students competed at three tournaments and claimed victory against teams from around the country. 
At the Coastal Classic hosted by the University of California, Santa Barbara, the team of Julian Applebaum '23 and Austin Wu '23 claimed fourth place. Applebaum individually ranked as the fifth highest scoring competitor, and Wu ranked ninth. 
At the Second City Regional hosted by the University of Chicago, the teams of Sarah Phillipi '25 and Nathan Hemmesch '26, and Shweta Shankar '26 and Rachel Christensen '25, placed as octo-finalists.
At the Capital University Regional, the teams of Applebaum and Wu and Reece Robinson '26 and Riley Hodin '25 placed as octo-finalists. Rebecca Gentry '23 and Willow Albano '26 placed as quarterfinalists. Applebaum individually ranked as the sixth highest scoring competitor.
Waste not, win awards
The Post-Landfill Action Network ranked Macalester #6 in the Top 10 Zero Waste Campuses in 2022. "We are excited to continue making large strides in our pursuit of zero waste," said Ellen Gurrola, Sustainability Office coordinator. She credited the achievement to campus-wide efforts towards zero waste goals. Bon Appetit focuses on minimal food waste at Cafe Mac and MacShare allows students to buy affordable food that is purchased in bulk from local farms. Students lead many of Macalester's zero-waste projects and programs. 
To pursue zero waste, the Sustainability Office also partners closely with Facilities. This relationship is unique and sets Macalester apart from other colleges and universities, said Nathan Lief, assistant vice president of Facilities Services. 
How to be considered for future Maccolades
If you or someone you know recently earned an award, fellowship, or honor and would like it to be considered for inclusion in next month's Maccolades, please let Communications & Marketing know by filling out this Maccolades form. For recent book publications, please use this book publication form.