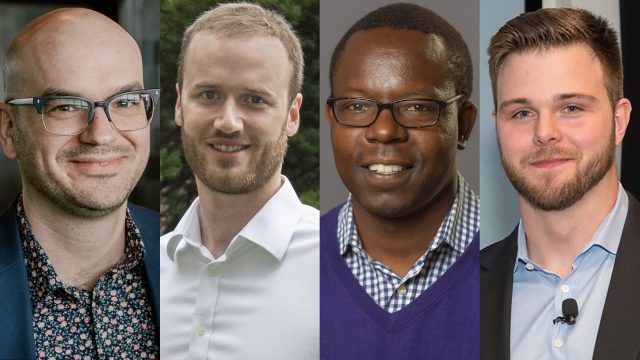 Four Macalester professors have been awarded tenure. They are: Matt Burgess, English; Gabriel Lade, Economics; Getiria Onsongo, Mathematics, Statistics, and Computer Science; and Felix Friedt, Economics. 
Professor Burgess is a writer who specializes in novels, short stories, and screenplays. His first two books, Dogfight, A Love Story (Doubleday) and Uncle Janice (Doubleday), received critical acclaim nationally, and his third novel is close to publication. Many of his stories take place in his home borough of Queens, New York, where he grew up in the Jackson Heights neighborhood. Professor Burgess teaches Introduction to Creative Writing, Visual Storytelling, and International Storytelling. He earned his A.B. in creative writing from Dartmouth College and his M.F.A. in creative writing from the University of Minnesota. 
Professor Lade is an expert in environmental economics who studies policies that affect the transportation fuels market and policies related to water quality. The results of his research examining the damages of the Flint water crisis to the city's housing market will be published in the American Economic Journal: Economic Policy in early 2023. His current research estimates the future costs of California's low-carbon fuel standard, a key policy aimed at reducing greenhouse gas emissions in the state. Dr. Lade primarily teaches Intermediate Microeconomics and  a capstone course on industrial organization. He grew up in Germany and Oklahoma and earned a B.A. in economics and international affairs at The George Washington University, an M.A. in economics from Rutgers University, and a doctorate in agricultural and resource economics from University of California, Davis. 
Professor Onsongo is an expert in the field of bioinformatics with a primary focus on clinical genomics and agricultural informatics. He writes software to aid genetic testing and analysis in clinics and recently completed work on a project to develop tools that agricultural researchers can use for predictive plant breeding. Prior to joining Macalester's faculty, Dr. Onsongo was an analyst at the Minnesota Supercomputing Institute. He teaches courses on databases, computational biology, and introductory computer science. From Nakuru, Kenya, Professor Onsongo earned his B.A. in mathematics and computer science from Macalester College, where his research experience with Professor Elizabeth Shoop, now his colleague, led him to earn his M.S. and doctorate in computer science at the University of Minnesota.    
Professor Friedt specializes in international and transportation economics. One of his current research projects analyzes noise pollution from the Minneapolis-Saint Paul Airport, whom it affects and how it influences home values. Another examines the effects of seaports on local labor markets. Dr. Friedt teaches courses on the principles of economics, international economics, econometrics, and a capstone on multinational corporations. Originally from Düsseldorf, Germany, he earned his B.A. in economics and international business from Whitworth University and his M.A. and doctorate in economics from the University of Oregon.