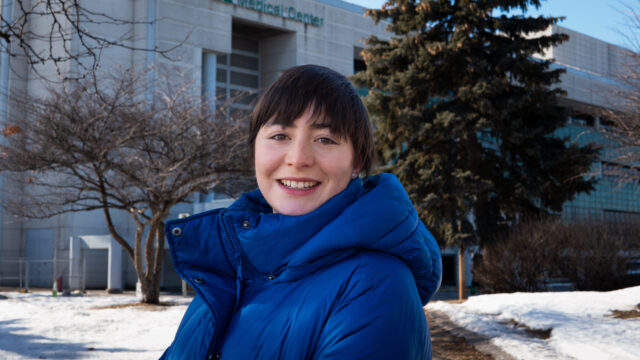 Landed is an ongoing series where we ask recent graduates how things are going post-graduation. Here, Helen Frieman reflects on her time at Mac and what she's been doing since graduating in May 2022.  
Helen Frieman
Evanston, Illinois
Neuroscience
Currently working at the Minneapolis Veteran Affairs
Lightning Round
Favorite superpower: Mind-reading

Hidden talents: Playing the guitar

Favorite spot in the Twin Cities: Kalsada, a coffee shop a few blocks away from campus
Why Macalester?
I wanted to be in an urban environment and Macalester popped up straight off the bat.
What was your most challenging course?
Cognitive Neuroscience was really difficult for me, but it also confirmed that I was interested in neuroscience.
What else did you do during your time at Mac?
I tutored in the Spanish Department starting my sophomore year. That department was my home even though it's not directly tied to my major.
Any research during your time at Mac?
I worked with Dr. Lucy Vulchanova at the University of Minnesota in the Department of Neuroscience. Macalester has a lot of connections to that lab—they hire a Macalester student every summer.
Advice for new students
Pick a college where you'll be comfortable to make it what you want. My first-year course professor broke down exactly how much Macalester tuition costs per hour and said, "If you're not coming to my office hours, you're wasting your money."
What are you doing now?
I'm in the Twin Cities. I interned at the Minneapolis VA during my senior year as an undergraduate research assistant. Now I'm a Psychology Study Coordinator and a psychometrist at a neuropsychology clinic. I am definitely learning a lot both about the field itself as well as the possible career paths and opportunities. 
Looking back, what do you appreciate about Macalester?
I felt really empowered to learn. And, take in knowledge and then apply that knowledge.