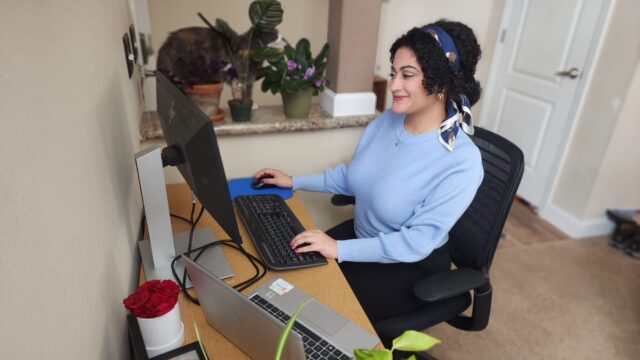 Landed is an ongoing series where we ask recent graduates how things are going post-graduation. Here, we talk with Joselyn Angeles-Figueroa '21 about her work to support community-centric youth development nationwide.
Though she never could have imagined herself as a senior research assistant when she started college—"I did the thing every Mac first-year does: joined international studies because I didn't know what I wanted to do!"—Joselyn Angeles-Figueroa '21 has found her focus a year out from graduation at Child Trends, a Maryland-based research organization that partners with practitioners and policymakers to supplement potential solutions to issues facing children in the United States.
In her role, Angeles-Figueroa helps conduct surveys and psychological studies to produce independent research on the state of childhood development. "We work to identify the gaps in healthcare or social service access in early childhood, like food stamps or housing supports," she says. It's a calling she's been passionate about since she first discovered her love of working with children through volunteering experiences at Mac.
In one such experience, Angeles-Figueroa was placed in a low-income charter school in St. Paul, where she witnessed how socioeconomic challenges can affect children. "That recognition made me reflect on my own past growing up in Title I schools," she says. "It pushed me to continue supporting education and my communities through research." 
Continuing to build on her passion for community support, Angeles-Figueroa's personal research interests include racial and ethnic equity, criminal justice, and ethnic identity construction. She's been dedicated to supporting communities of color, especially Latin American, and describes this as a drive nurtured by Macalester.
"Macalester gave me the framework to be able to respectfully enter different communities, and not speak for them, but to support them in their advocacy," she says. 
In this sensitive work, she says she's grateful for how her education prepared her for mindful research principles when approaching different communities. "We can't be extorting people to just tell us their life stories," she says. "Macalester made it so that I always approach research situations that way. I've never had to question how to change my research—that was always a foundational aspect of it."
Angeles-Figueroa reflected on her experiences at an October panel for sociology majors—here's her advice for students from all majors:
"Work does not stop! It's important to take the time that you need if you're able before you enter the workforce." 

"I was surprised by how nice people are. I had this idea that the professional world was malicious and awful, but so many professionals I've met want to see you grow and improve." 

"The Macalester network does work. The people I met there were so kind and willing to help. That sticks with you—the attitude you gain from being at Mac."