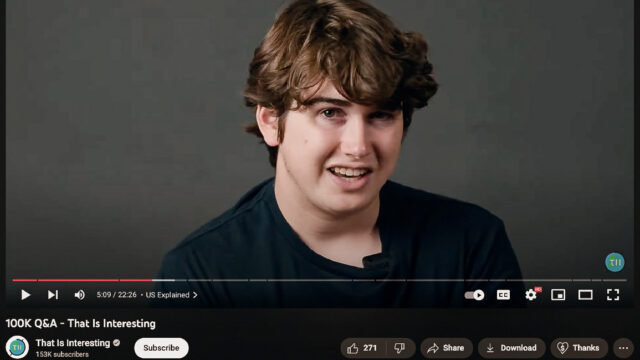 By Catherine Kane '26
In the summer after his sophomore year in high school, Carter Stacy '24 (Los Olivos, Calif.) started becoming interested in history and geography. As a small passion project, he began uploading videos about topics that interested him to his 125 subscribers on YouTube.
Now, his channel, aptly named That Is Interesting, has some 155,000 subscribers and counting.
"In my senior year of high school, the channel blew up within a week or two," he says. "The video that took off was called '80 percent of Americans live east of this line.' I literally had drawn a line on a nighttime satellite image of the US to create this very visually stark, obvious thumbnail."
His once-small passion project became a nearly overnight success, and soon Stacy found himself scrambling to upload more videos to keep the momentum going.
" This summer, I thought about what it would look like if I were to work on the channel full time," he says. "I made a bunch of videos and was really able to boost my viewership significantly."
Some of his most successful videos are part of his "US Explained" series. Stacy picks a single US state and makes a 35- to 45-minute mini-documentary on it, including its geographical, cultural,
and historical features. He attributes the growth of his channel and popularity of the "US Explained" videos to the new audience members drawn when they see their state reflected.
"I try to engage the audience in the process a lot because it's very helpful for me," he says. "When I'm working on a 'US Explained' video, I'll put out a call for submissions of things to include, like local quirks and things I wouldn't know, especially if I hadn't been there. I'll get hundreds of responses from people sharing with me."
Stacy studied abroad fall semester in Cape Town, South Africa, and continued to upload videos he made before leaving. While at Macalester, he took Regional Geography of US and Canada with Professor Laura Smith '94, a course that took particular interest in water in the western US. He has used some of the knowledge from that course to inform videos on water and settlement in the US.
"I've worked to build a big audience and I can teach them things in a way that's interesting and engaging for them," he says. "It's something that I'm really proud of."