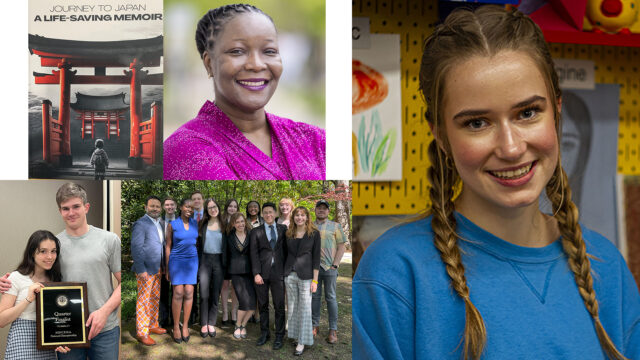 Maccolades is a monthly round-up of the most recent accolades and accomplishments earned by members of the Macalester community. Below are highlights from May 2023. 
Mac students set the record
A record number of Macalester students were selected for the University of Chicago's Expanding Diversity in Economics Summer Institute. The program is designed to "identify and support talented undergraduate students from a broad range of backgrounds who are interested in the study of economics." Out of more than 650 applicants, 45 were selected, including seven Macalester students: Abdullah Farea '26, Shirley Jiang '26, Ethen Kantu '26, Lifelihle Kunene '25, Yvan N'guettia '26, Gabriella Nieves '26, and Jiayao (Skye) Sun '26.
With a focus on microeconomic research and applied economic analysis, the program offers participants unique opportunities for technical skill building, daily instruction, guest talks, and field trips. Students will also spend a week in Washington, D.C., learning about economists' crucial role in domestic and international fiscal and monetary policy. The costs of housing, travel and participation are covered for all participants, who also receive a $1,200 stipend.
A winning plot
Carling McQuinn '25 (Austin, Texas) won the Nick Adams Short Story Contest from the Associated Colleges of the Midwest, an honor that included a $1,000 prize. McQuinn wrote the story in a creative writing class last year, workshopping it with her professor and peers before submitting it. She drew from her personal experience with her family during high school while writing "Phantom," a work of fiction.
"I've been passionate about writing my whole life, so it's super exciting to receive recognition for something I love," McQuinn said. "My story, 'Phantom,' is about sibling and family relationships while growing up and in times of difficulty. I'm thrilled that by winning this contest, I will be able to share this story with a larger audience."
Courting victory
Macalester's mock trial team advanced to the National Championship Tournament, the team's first qualification since 2015. Ten students, coaches Niloy Ray '99 and Devon Holstad, and Director of Forensics Beau Larsen traveled to Memphis in April for the competition. The students qualified during the semi-final Opening Round Series Championships hosted by Macalester in March.  
"The students worked tirelessly to prepare opening and closing statements, witness performances and objection battles in round," Larsen said. "Mock trial provides students with the foundational basics of legal training and expertise. Students are required to prepare cases on both sides of a civil or criminal trial, which requires multifaceted preparation and quick critical thinking skills."  
Zero-waste warriors
In the nationwide Campus Race to Zero Waste competition held between February and March, campuses across the country reported the amount of compost, recycling, and trash collected each week to determine which school was able to divert the most waste from landfills. Macalester emerged as the winner of three categories of the small campus division competition: overall diversion, food organics, and zero waste. 
"Thanks to the collaboration of students, faculty and staff, Macalester has been able to make a tremendous positive impact by reducing the college's waste footprint through reduction, reuse, and recycling efforts," said Sustainability Director Megan Butler. 
Measuring what matters
Dr. Bethany Miller, director of Institutional Research and Assessment, was named a Senior Fellow of the American Association of Colleges and Universities, a global membership organization dedicated to advancing the vitality and democratic purposes of undergraduate liberal education. Dr. Miller's work involves collecting and analyzing data to drive continuous improvement in students' education and overall experience. 
"I am excited to receive this honor because it not only represents the work that I have been doing related to assessment, pedagogy, and general education, but it also represents the opportunity for me to continue to do this very important work," Dr. Miller said. "It means a lot to be able to work on campus and still have the work that you have done be recognized and supported not only on your own campus, but in the broader landscape of higher education."
The power of persuasion
Macalester's debate team earned recognition for competitive achievements at two collegiate debate championships: the National Debate Tournament in Washington, D.C. and the Cross Examination Debate Association's Debate National Championship in Houston. At the National Debate Tournament, the duo of Ella Williams '26 (Austin, Texas) and Sam Price '25 (Chicago) won 13 of 24 ballots. The team reached the elimination rounds at the CEDA national championship, winning multiple rounds on 3-0 decisions before losing 2-1 in the quarterfinals. Students debated whether the United States should grant legal rights and/or duties to artificial intelligence, nature, and non-human animals.
"The debate team spends summer, fall and winter seasons preparing for spring championships," said Beau Larsen, director of forensics. "Judges were incredibly impressed with the research and scholarship our students brought to the competition."
Finding home in a foreign land
Sarah Rossmann Deschamps '88 published a book titled "Journey to Japan: A Life-Saving Memoir." Sarah and Fred Deschamps decided to move to Tokyo with their two-year-old daughter when Sarah was eight months pregnant. They dreamed of exploration and adventure. Instead, Sarah gave birth in a rundown Japanese hospital to a baby with multiple medical issues. They were thrust into a cross-cultural medical nightmare.
"Our story is helpless meets determination," Deschamps said. "It details the lengths we went to for our daughter so she could have the best chance in this world. At its heart, this memoir is about marriage, family, belonging, and what it means to find home in a foreign land."
Cracking the code to community empowerment
Dr. Joslenne Peña, assistant professor of mathematics, statistics, and computer science, received a National Science Foundation award through the Computer and Information Science and Engineering Research Initiation Initiative, which supports early-career faculty. The award will fund Peña's computing workshop series at Macalester's library, targeting workforce professionals with limited computing experience. The workshops are aimed at developing novice computational skills, such as programming, and engaging diverse groups of  people in the St. Paul community through informal learning opportunities.
"What excites me the most about the award is being able to participate in community outreach efforts by engaging diverse groups of workforce professionals in programming workshops," Dr. Peña said. "I am also excited to collaborate with students who will help shape and inform what these look like."
The award enables Peña to hire students for two years and support their attendance at research and professional development conferences.
An aesthetic high note
Dr. Hannah Kim, assistant professor of philosophy, won the John Fisher Memorial Prize for her paper titled "A Dual-Process Model of Xunzi's Philosophy of Music." She will present the paper at the American Society for Asthetics Annual Meeting in Arlington, Virginia in November.  Her paper will be published in the Journal of Aesthetics and Art Criticism. The Fisher Prize, awarded in alternate years to an original essay in aesthetics, offers $1,000 and travel to the annual meeting to foster the development of new voices and talent in the field of aesthetics. 
Full of bright ideas
Macalester seniors and recent graduates Bella Garrioch '23,  Eleanor Grinnell '23, Owen Sayre '23, Emma Iverson '22, Rachel Percy '22, Carter Rutherford '22, Ollie Radovic '22, and Willow Fortunoff '21 received Fulbright U.S. Student Program awards for the 2023-2024 academic year from the U.S. Department of State and the Fulbright Foreign Scholarship Board. Senior Alexandra Jabbarpour '23 received a USTA-Fulbright award. All recipients will study, conduct research, and teach abroad for the 2023-2024 academic year — traveling to places such as Ecuador, Sweden, Taiwan, Kyrgyzstan, and Austria. The Fulbright Program is the U.S. government's flagship international educational exchange program.
"We are so proud that these nine students and recent graduates are continuing the Macalester tradition of sharing their considerable passion and skills with the world through the Fulbright program," said President Suzanne Rivera.
Unlocking public service
Macalester junior Holiday O'Bryan '24 received Phi Beta Kappa's undergraduate Key into Public Service scholarship. The award includes a $5,000 scholarship and the opportunity to attend a conference in Washington, D.C. for training and mentoring about jobs in public service. 
"As an undergrad, you have so many opportunities to learn from people, so I'm looking forward to hearing from those who are in public service careers and about how they got there," said O'Bryan, who was one of 20 students selected from more than 900 applicants. 
Empowering education in Brazil
Macalester students Valeska Kohan '23 and Amanda de Souza '25 were awarded $10,000 from Davis Projects for Peace to carry out their own project in Rio de Janeiro, where both students grew up. For over 15 years, Projects for Peace has worked with partner institutions to seek out young peacebuilders and encourage them to develop innovative and community-centered responses to pressing global issues. 
For their project, "Seeds of Peace: Fighting Racism in Rio de Janeiro by Empowering Public School Teachers," Kohan and de Souza will organize and present two workshops in June and July to public school teachers in the Brazilian metropolis. These workshops aim to provide the tools and resources teachers need in order to implement anti-racist practices and facilitate discussions about race in their classrooms. 
How to be considered for future Maccolades
If you or someone you know recently earned an award, fellowship, or honor and would like it to be considered for inclusion in next month's Maccolades, please let Communications & Marketing know by filling out this Maccolades form. For recent book publications, please use this book publication form.