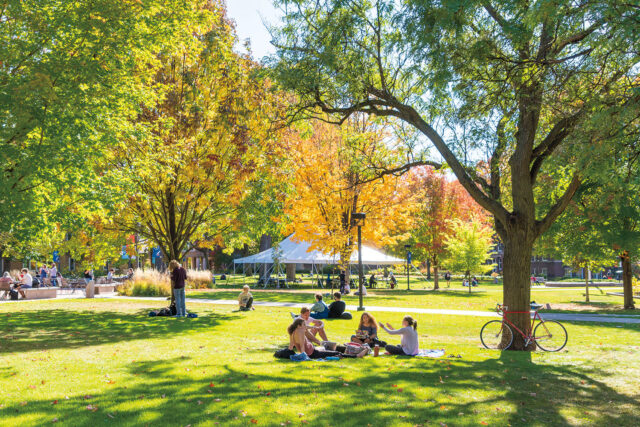 When I walk around the Macalester campus on warm fall afternoons, it seems like our entire campus community is outside, embracing the season together in one sprawling gathering. I see people tucked into hammocks between trees near Marvin Plaza, reading books. Others play spikeball on Shaw Field. Classes form circles on the Great Lawn. Neighbors walk their dogs and ride their bikes on campus sidewalks. Someone strums a guitar in a courtyard. During a quick stroll, it's easy to see the full spectrum of life at Macalester: studying, socializing, working, exercising, resting, making connections.
Our campus is home to the living-learning community model that's been a defining characteristic of Macalester for generations. It's also a portal for exploration and discovery. Not merely a collection of classrooms, the physical spaces on campus signal our values: flags representing students' home countries on display in the Campus Center and in the Leonard Center, portraits and plaques that honor important figures from the college's history, public art honoring a myriad of cultures and traditions, a political slogan painted on the rock.
At their best, our campus spaces bring us together, fostering a sense of belonging and community. I see that exemplified beautifully in multipurpose gathering spots like Lowe Dayton Arts Commons, or the Idea Lab in the library, or in the Alumni Gym where students sit at athletic competitions next to classmates whose paths they might not normally cross.
However, sometimes, our campus spaces create barriers that impede collaboration, leave people out, or block us from realizing our aspirations. Not every part of campus is inviting and comfortable for all. Some spaces can feel exclusive. We must do more to improve accessibility. And we have work to do with regard to environmental sustainability. With care, we can make changes to ensure, together, that our entire campus is just as welcoming and vibrant as the Great Lawn in October.
To that end, we're busy making choices about how to use our space in ways that optimize the powerful combination of qualities that make Macalester distinctive: a signature liberal arts curriculum, grounded in a residential campus experience, focused on our unique Twin Cities location, with an emphasis on citizenship within the wider world.
We're guided in this work by a comprehensive campus plan—created with input from students, faculty, staff, and alumni, and endorsed unanimously by the Board of Trustees in May—that identifies current and future facilities needs, and explores possibilities for the use of our available space. The comprehensive campus plan is anchored by the same foundational imperatives as our broader Imagine, Macalester strategic plan: academic distinction, financial sustainability, social responsibility, and community well-being. Accordingly, it will manifest, in bricks and mortar, the big goals we spent a year developing together.
Those goals include emphasizing our identity as a residential campus, which requires that we invest in campus housing. Currently, the college can guarantee housing only to first- and second-year students. So, most students move off campus for their junior and senior years. To maximize the benefits of being a living-learning community, and to give juniors and seniors more flexible options, one of our first steps will be to build a new residence hall that will significantly expand our campus housing capacity.
Other examples of space priorities that activate goals from our strategic plan include:
Emphasizing accessibility and universal design, to ensure our spaces work for all members of our community.

Reconsidering and reallocating existing space to improve the student experience. We asked students for their input, and they told us they feel dispersed and fragmented. We will address that.

Creating an inviting space that intentionally welcomes alumni back to campus.

Prioritizing climate-positive decisions— for example, exploring new geothermal technology and solar array deployments that would be appropriate for our unique urban environment.

Taking steps to break down the metaphorical walls between our campus and the neighborhood in which it sits. We recognize that our influence in the Twin Cities extends beyond our physical footprint, and we will seek new opportunities to invite local residents into our campus spaces.
I'm excited about the work we will do together to ensure that future generations of Mac students will experience this campus as both a nurturing home-base and a window to the world. You can read the entire comprehensive campus plan at macalester.edu/strategic-plan. We welcome your feedback, and we'll keep providing regular community updates about the impact of our work.
With continued guidance, encouragement, and financial support from alumni and friends, we will preserve and amplify what's special about this campus, and we'll reimagine how its indoor and outdoor spaces can best support all members of our Macalester family.
Dr. Suzanne M. Rivera is president of Macalester College.