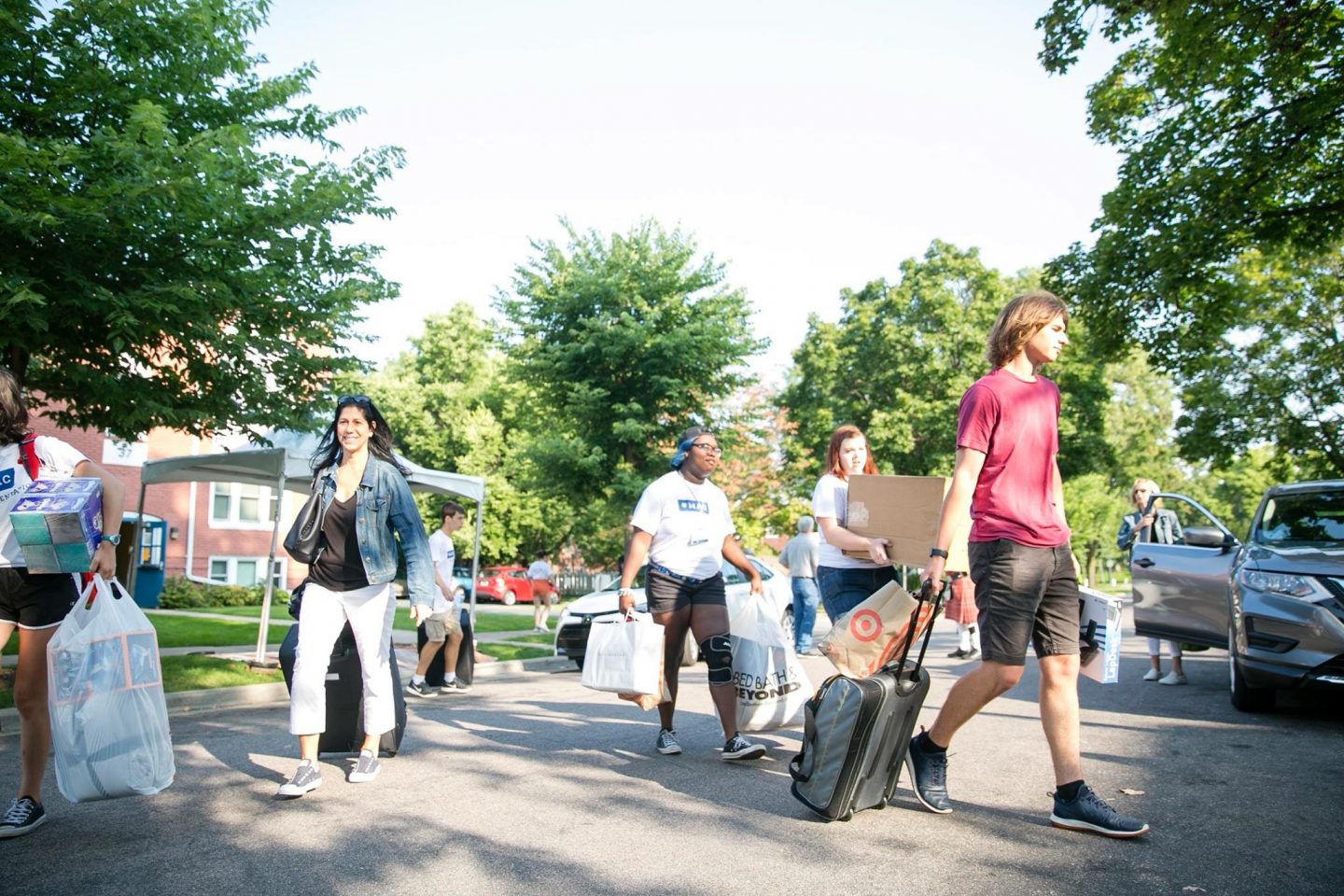 Welcome new students! Congratulations on becoming a Macalester Scot!
Macalester looks forward to welcoming members of the Class of 2025 and new transfer students
Macalester's Orientation program will be held in person this year (Aug 27-31, 2021). To accommodate all students, evening welcome programs on Aug 27 and the required "This Matters at Mac" presentations will be live-streamed virtually and uploaded to the Orientation website. Small group meetings and supplemental Orientation offerings will not be available virtually but, if needed, Orientation staff can assist students in accessing information presented at in-person sessions.

In addition to our Parent and Family Orientation Zoom webinar series (Aug 16-19 & Aug 30), all in-person Parent and Family sessions (Aug 27-28) will also be live-streamed and uploaded to the Orientation website.

During Orientation, masking will be expected at all indoor, in-person gatherings for students, parents/families, and staff/faculty, regardless of their vaccination status.

We will continue to follow public health guidelines from the College and state should any changes to this plan be necessary.

For full details please review the Orientation schedules for new students and parents & families. Additional details will be added periodically throughout the summer.
New Student Orientation
All new first-year and transfer students are expected to participate in Orientation August 27-31, 2021. This experience will acquaint you with the culture, services, and resources at Macalester as you transition into the campus community.
By the end of new student orientation you will:
Establish a sense of belonging
Familiarize yourself with campus
Identify support resources
Learn the core values of the Macalester community
Understand academic expectations
Key Components of Orientation
Scottish House Meetings: New students are divided into orientation groups based on their First Year Courses (FYCs) called Scottish Houses. Each House is made up of 12-18 new students and is led by Orientation Leaders (OLs). Houses will meet six times over the course of Orientation, offering a variety of ways for you to engage with your peers and returning students. The Scottish House meetings will be interactive and engaging, allowing you to both learn about Macalester and our community, as well as provide an opportunity for you to get to know members of your class. Through guided conversations, facilitated activities, and group dialogue, new students will have a variety of ways to engage with one another.

Orientation Leader 1-on-1 Meetings: Orientation Leaders (OLs) will offer 30 minute one-on-one meetings to help build relationships with new students and to make space for individualized questions and concerns to be addressed. These meetings will be established by each Scottish House during the first few days of Orientation.

"This Matters at Mac" Series:

This program series highlights the values and practices that are most important to our community. Students are required to participate in these sessions as apart of joining our campus community. These sessions are further discussed by OLs in the Scottish House meetings that take place throughout Orientation. Topics include:

Wellness & Wellbeing

Multiculturalism & Social Justice

Sexual Respect

Civic Engagement

Academics
Advising Appointments: New students will meet with their FYC professor for a one-on-one advising appointment during Orientation. This appointment will be scheduled during Orientation. Visit the Academic Programs & Advising webpage for more information on First-Year Registration.
For Parents and Guests Traveling to Campus
There will be a hybrid Parent and Families Orientation experience this year, with both virtual and in-person opportunities to learn more about Macalester. View the detailed schedule for more information. For those parents and guests looking to book their travel arrangements, we suggest you arrive between 8:00 a.m. and 4:00 p.m. on August 27, 2021 as noted above. There will be optional evening programming in-person for parents and families August 27th and a morning in-person program on August 28th, which we anticipate ending by 10:30 a.m. CST. There is no formal farewell program or additional in-person offerings after this time. Parents and families are welcome to depart at any time.
Looking to book accommodations? View the 2021 Macalester Orientation Hotel Room Blocks.