Parking permits registration is available online at PARKING PERMITS After your registration has been processed, Faculty/Staff and Residential Student permits will be sent through campus mail all others can be picked up at the Public Safety Desk in the Facilities Services Office.
Online Permit Submission Instructions:
Permit Type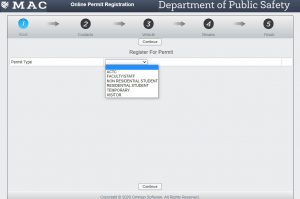 ACTC – Used by students who attend classes through the ACTC program (Macalester Students will also need to be issued either a Non Residential or Residential student parking permit)
Faculty/Staff – Employee parking
Non-Residential Student – Issued to students who live off campus but will be driving and parking on campus (overnight parking is not permitted)
Residential Student – Issued to students living on campus.
Temporary – Issued to persons who will be parking on campus for limited period of time
Visitor – Issued to campus visitors for a limited period of time.
Contact Information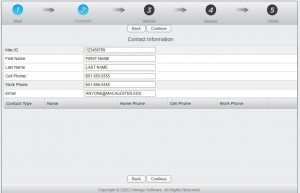 Mac ID – Macalester Identification Number – MUST MATCH ID NUMBER
First Name – Permit registrant's first name.
Last Name – Permit registrant's last name.
Cell Phone – Permit registrant's cell phone number.
Work Phone – Permit registrant's work phone number (optional).
Email – Permit registrant's Macalester Email address
Vehicle Information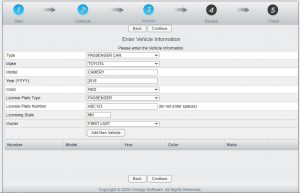 Type – Vehicle Type (select closest match)
Make – Vehicle manufacturer (select closest match)
Model – Vehicle model
Year – Year vehicle manufactured
Color – Vehicle color (select closest match or use "other")
License Plate Type – Type of plate issues
License Plate Number – Plate number (USE ONLY LETTERS AND NUMBERS)
License Plate State – Two Character state abbreviation
Owner – Select vehicle registrant name
If you are registering more than one vehicle – click "Add New Vehicle" and repeat the process.
Review Report
This screen can be used to review your registration. If there is additional information or comments, please use the Notes/Comments field at the bottom of the page.