We are committed to providing secure access to campus buildings through our state-of-the-art card access system, in addition to key access.
Card Access
By default, staff and faculty will be granted general (exterior) access to academic and administrative buildings (not including Campus Center, Leonard Center, or the Library).  Faculty and staff who require additional access to office space, labs or classrooms, should contact their Department Coordinator.
All students will receive access to academic buildings during school hours with extended study hours as well as access to the Library link.  Students living in on-campus housing will be given access to their Resident Halls.  Additional access can be requested through your Department Coordinator.
Note for Department Coordinators and other authorized department requesters: To avoid unauthorized usage, the link for the online card access request form is not publicly available. If you do not have the link yet, please email [email protected].
Resolving Issues:
How to I get Access to an area or building?
Contact the Department Coordinators responsible for the area and request access.  Please allow 5 days after the Coordinator submits the request for processing.
What do I do if my access is not working and it should?
Verify the access has been requested and then contact us at [email protected] or call 651-696-6218.  When contacting Card Access, in addition to the problem you are experiencing, please provide your full name, MAC ID number, and the iClass number from the back of your MacPass.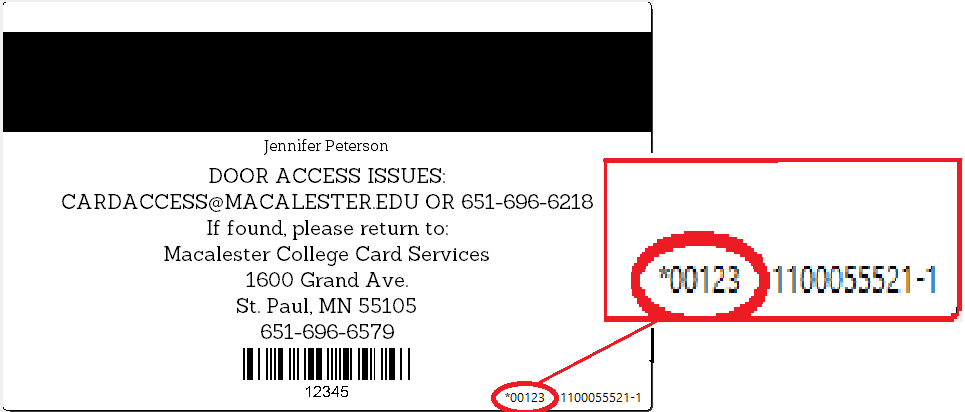 Please note, credit cards, enhanced driver's licenses, RF blocking holders, etc. may block your access card from working properly. If you are experiencing an issue, please try your access card without these items.
I think a card reader or door lock is not working properly.
Report the issue by submitting a work order request.  If the malfunctioning lock creates a security risk (door is unlocked), call Security immediately at 651-696-6555.
I lost my MacPass.
You can deactivate your MacPass by going through your GET funds account online or using the GET Mobile app.  Deactivating a lost card will prevent unauthorized charges against your account and misuse of your campus access.  If you find your card, it can be activated again using the same app, otherwise you can go to card services and get a replacement card (replacement card fee $5.00). Visit MacPass, GET Mobile and Mac Money for more information.
Key Requests
Non-residence hall keys are issued at the Facilities Services Office and can be requested using the form provided below. Please note: student residence hall keys are issued by Residential Life. Please contact Residential Life for issues with any residence hall keys.
Key Access Request Forms
Use this new form to submit a key order or request a due date extension for key return. New Key Request Form
After completing this form, you will received confirmation that a Facilities Services Work Order has been created. Please allow 5 business days for processing.
The due date extension form is for authorized supervisor/coordinator use only. Students cannot request extensions for their own due dates.
Report a problem with a lock or key
Key Returns
Faculty and Staff
Keys can be returned in the Facilities Services office during business hours, or in the 24/7 drop box outside the door. If leaving your keys in the drop box, in order to ensure proper return, please put keys inside an envelope with your name and ID number.
Students
Students are responsible for returning the keys they checked out to the Facilities Services office before leaving campus for the summer, for study abroad, or any other reason, to avoid incurring lost key charges.
Replacement Charges:
Under certain circumstances, Facilities Services may charge for lost or late keys:
Lost Keys – $30.00 per key
Core Replacement – $60.00
Late Return – $10.00 (students)
Fees can be paid by cash or check at the Facilities Services office or by credit card ONLINE and are due prior to receiving replacement keys.