All student, faculty, and staff vehicles parked in college parking facilities must be registered with the Department of Public Safety. If you have any questions regarding parking and traffic regulations or bicycles, please email [email protected].
2022-23 Parking Permit Update
We are working to process all of the parking permit applications and will be issuing them within the next few weeks. At this time, Public Safety will not be issuing parking citations for unregistered vehicles or expired parking permits.
Resident Student and Faculty Staff Parking Permits – These permits will be issued and sent to you via intercampus once your application has been processed and issued.
Non-Residential Student Parking Permits – As part of the application, we are asking you to provide a current mailing address, once your application has been processed, it will be sent via USPS mail.
If you have any questions, please email them to [email protected]. We appreciate your patience with this process.
Online Parking Permit Applications
To register for a parking permit, an online permit application must be submitted. Once the application is approved and processed, your permit will be issued. Faculty/Staff and Residential Student permits will be sent through campus mail, all others can be picked up up from the Department of Public Safety at the Facilities Services Office.
For detailed instructions on completing your application, visit Parking Permit Online Registration.
Personal Vehicle Parking Permits
Regular parkers are required to obtain a parking permit and display a college issued decal in the rearmost drivers side window of their vehicle.  All parking spaces are first come, first serve, unless otherwise signed or reserved. There is no charge for permits for students, staff, faculty, and visitors.  Because of limited parking space, we encourage Alternative means of commuting
Visitor parking spots are reserved for visitors to the campus and are not for the use of students, staff, or faculty.  Violators will be ticketed or towed at the owner's expense
Resident student registration is valid for one year, September to August. Non-resident student registration is valid for one semester at a time.
First year students are not eligible to park on campus; medical and work-related exceptions may be requested by submitting a First Year Parking Exemption Request
If you do not have a valid parking permit, you may receive a parking violation. All violation fees may be paid at the Facilities Services Office during business hours.
Long term parkers are required to use the Janet Wallace Fine Arts Lot.
West 2 Parking Lot Restrictions
Residential Parking Location
Vehicles with Residential parking permits must park in the last row of the lot. This lot is designated with red stripes and signage. Residential permitted vehicles parked outside of this zone may be ticketed or towed.
Snow Emergency
When a snow emergency is declared, all vehicles must be moved from the lot to a designated area. Vehicles that are not moved will be towed, issued a non-compliance fee charged to their student account, and parking privileges revoked.
Long Term Parking
Vehicles parked in this lot over holiday breaks must apply for a Long-term parking permit. Vehicles receiving a Long-term parking permit must park in the designated area. Long Term Parking Registration
Towed Vehicles
Vehicles towed from this lot are towed at the owner's expense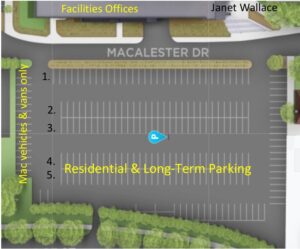 Parking on Campus (includes winter)
Parking & Traffic Regulations
Car and Van Pool or Low-Emitting Vehicle Permit Application
City of St. Paul Parking Regulations
Bikes
Bike Laws in Minnesota
Bicycle Parking Regulations on Campus
Campus Bicycle Registration