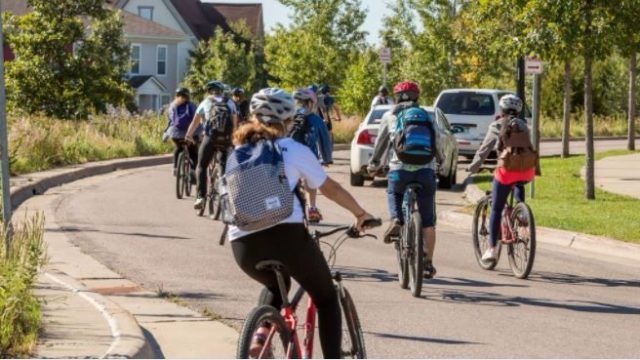 Transportation at Mac
MetroTransit GoTo cards are sold at the Campus Center Info Desk at a discount for current Macalester College students and staff
Faculty and Staff
Staff Orientation: Sustainability at Macalester 
The Sustainability Office holds coffee breaks about every other week for community members that commute to campus regularly using methods which release less carbon. Email the Sustainability Office at sustainability@macalester.edu to be added to our Alternative Commuter Moodle Group
Mac Open Rides is a student-run Facebook group that connects passengers and drivers. A valid Macalester email address is required.
Low-Emitting Vehicle and Carpool Priority Parking incentivizes emissions cuts through smart transportation choices and is part of the Leadership in Energy in Environmental Design (LEED) points for Markim Hall. Motor Vehicle & Bicycle Parking Regulation (PDF)
Macalester supports Flexible Work Arrangements in situations which will benefit the employee, the work unit, or department, and the college. These arrangements, which can include flexible hours, compressed work weeks, job sharing, or telecommuting, can reduce greenhouse gas emissions from commuters. View our Telework Survey Results to see how it might help you or your department.
The High Winds Fund's Walk-To-Work Program provides financial assistance for staff who purchase houses within one mile from campus by offering "fix up" matching grants up to $4,500 for home improvement projects.