Katharine Ordway Natural History Study Area
Contact
Katharine Ordway Natural History Study Area
9550 Inver Grove Trail Inver Grove Heights, MN 55076 651-455-6204 (On Site)
651-696-6230 (On Campus)
andersonm@​macalester.edu
Ordway Field Station in the News
Ordway Field Station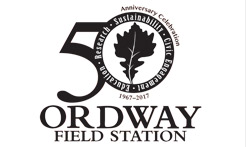 The Katharine Ordway Natural History Study Area (Ordway Field Station) is located on the bluffs of the Mississippi River in Inver Grove Heights, Minnesota, 17 miles from campus. The nearly 300-acre site was established in 1967 by Macalester College with the help of a major gift from Katharine Ordway.
The many natural habitats found at Ordway Field Station include:
tall grass prairie
oak savanna and woodland
riparian forests
seasonal and permanent ponds and springs
a backwater lake, adjacent to the Mississippi River
These lands have been set aside by Macalester College for education, research, civic engagement, and sustainability including the protection and management of natural environments. Many different Macalester academic departments use this extraordinary facility for teaching and research including the departments of Anthropology, Art and Art History, Biology, Educational Studies, English, Environmental Studies, Geography, Geology, and Media and Cultural Studies.
Any group or individual wishing to visit or utilize the field station for exploratory, teaching, research, management or other activities needs to receive prior approval. Early in the process, please contact Jerald Dosch at [email protected], or Mike Anderson, [email protected].
In the News
Ordway Field Station goes solar
Photovoltaic solar panels were installed on the roof of the building in the fall of 2019. They generate enough electricity to nearly meet the field station's annual needs. (photo by Matt Meyer)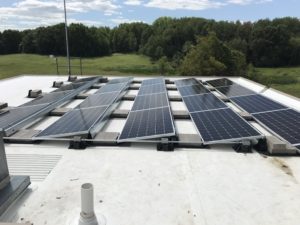 Capturing the seasons at Ordway
In July 2019, Assistant Professor Mary Heskel installed a new piece of monitoring equipment on the roof the Ordway Field Station building. The 'PhenoCam' faces south in a fixed orientation and is programmed to take photos every half hour; each image capturing the same view of Ordway's three ecosystem types: prairie, deciduous forest, and wetland. By installing a PhenoCam at Ordway, we are now 'plugged in' to a network of over 600 cameras that cover a wide range of ecosystem types around the world (https://phenocam.nau.edu/webcam/).
Phenology is the study of biological and environmental processes that are coupled with times of the year – the budburst of new leaves, flowering of prairie plants, the timing of fall leaf color change. Research collected from individual observations and remote sensing methods confirm that seasons are shifting due to changes in climate – often showing progressively earlier spring leaf out and delayed autumn leaf drop. Using image analysis, photos from PhenoCams can provide quantitative estimates of when spring, summer, and autumn occur, and how they may vary with temperature. This is important for ecologists who focus on ecosystem processes and also who think about the timing of animal phenology (i.e. -migration events, emergence of insects from larval state) and how it may or may not align with changes observed in vegetation.
We envision the data from PhenoCam contributing to faculty and student research in Biology and Environmental Studies, and also Math, Stats and Computer Science, as it provides a robust, long-term time-series dataset to model, and Fine Arts and Media Studies, as it offers a fixed, observational perspective on daily and seasonal changes. If you have questions about accessing the data from Ordway's PhenoCam, please contact Mary Heskel at [email protected].
The PhenoCam images at Ordway can be accessed by anyone here: https://phenocam.nau.edu/webcam/sites/macordway/

In 2012, Macalester College entered a conservation easement to permanently protect 150 acres of the Ordway Field Station working in partnership with Dakota County, the city of Inver Grove Heights and the Friends of the Mississippi River. Ordway's director Jerald Dosch called it, "a great win-win situation" and "a wonderful way to mark the 45th anniversary of Macalester's purchase of the land."