Contact
Katharine Ordway Natural History Study Area
9550 Inver Grove Trail Inver Grove Heights, MN 55076 651-455-6204 (On Site)
651-696-6230 (On Campus)
andersonm@​macalester.edu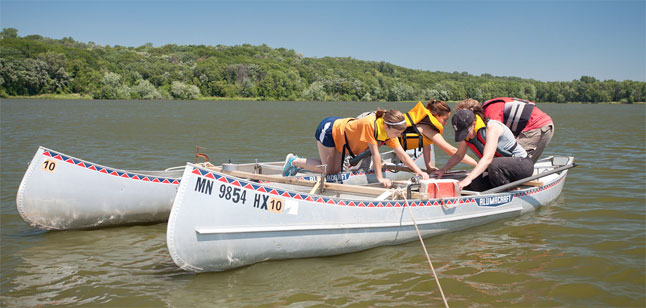 The Mission of the Katharine Ordway Natural History Study Area (Ordway Field Station)
The four pillars of the field station's mission are education, research, sustainability, and civic engagement.
Education The natural area is a living laboratory, available for college or university class field trips, elementary, middle, and high school visits, and outings by community groups and organizations.
Research The field station has been, and continues to be, a research site for independent researchers, faculty members, undergraduate and graduate students from Macalester and other colleges and universities.
Sustainability A variety of management efforts have been undertaken at the field station over the years in order to maintain the habitat and species diversity at the site. These include an ongoing burn program to maintain the prairie habitat and research on invasive plant species. Other management projects have involved some of the wetlands and the oak woodland along the Macalester shoreline of the Mississippi River.
Civic Engagement The field station welcomes scout groups, naturalists, birders, researchers, photographers, artists, teachers, and others. Everyone is welcome to visit Ordway and to learn about the natural area's landscape, flora, and fauna and its research and management activities.
Any group or individual wishing to visit or utilize the field station for exploratory, teaching, research, management or other activities needs to receive prior approval. Please plan to contact the director or the associate director early in the process.
Visitors are expected to abide by the ideas and principles of the Leave No Trace outdoor ethics.