Contact
Katharine Ordway Natural History Study Area
9550 Inver Grove Trail Inver Grove Heights, MN 55076 651-455-6204 (On Site)
651-696-6230 (On Campus)
andersonm@​macalester.edu
The History of the Katharine Ordway Natural History Study Area
Excerpts From a History Written by Kelly M. Paulson in 2001 as Her Honors Project
The Katharine Ordway Natural History Study Area (often abbreviated as KONHSA or Ordway) is a 278-acre parcel of land owned by Macalester College. Ordway is located in Inver Grove Heights, just south of Saint Paul, on the Mississippi River. Beginning in the 1950's, with the rise of ecology and environmental issues, Macalester College was keeping its collective eyes peeled for the possibility of acquiring a field station for the purpose of study, research, and prestige. In 1967, Macalester finally realized these dreams, and purchased approximately 276 acres.
Ordway has been a source of some reputation: Macalester is one of only four liberal arts colleges in Minnesota, and the only college in the Twin Cities, to boast a field station. Thousands of people have used the area for education, recreation, and research.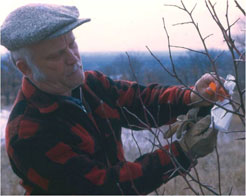 Richard J. Christman was the field station's first resident naturalist, a position he held for more than 15 years, retiring in 1985. In addition to managing the site, and assisting with Macalester courses using the field station, Christman hosted visits from many schools and community groups. He was an active amateur ornithologist and banded more than 40,000 birds during his life, many of them at Ordway. During his time at the Ordway field station, Christman wrote a series of Bulletins, producing a new one on nearly a monthly basis. These 129 Bulletins can be accessed at the link below.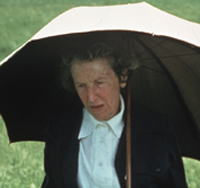 Katharine Ordway grew up in St. Paul, Minnesota, and attended the University of Minnesota, where she majored in biology and art. She later pursued medicine and land use planning at Yale and Columbia. Growing up on the eastern edge of the Great Plains made an impact on Ordway.
Now often referred to as "the lady who saved the prairies," she provided the Nature Conservancy with much of its early funding to purchase and preserve tens of thousands of acres of North American prairies, many of which now bear her name. In the mid-1960s, the college decided it wanted to establish a field station for ecological study and identified property in Inver Grove Heights, bluff land habitat along the Mississippi River, as a suitable site. In 1967, Macalester accepted a gift of $150,000 from Katharine Ordway to purchase the property, and, in gratitude, named the field station after her.