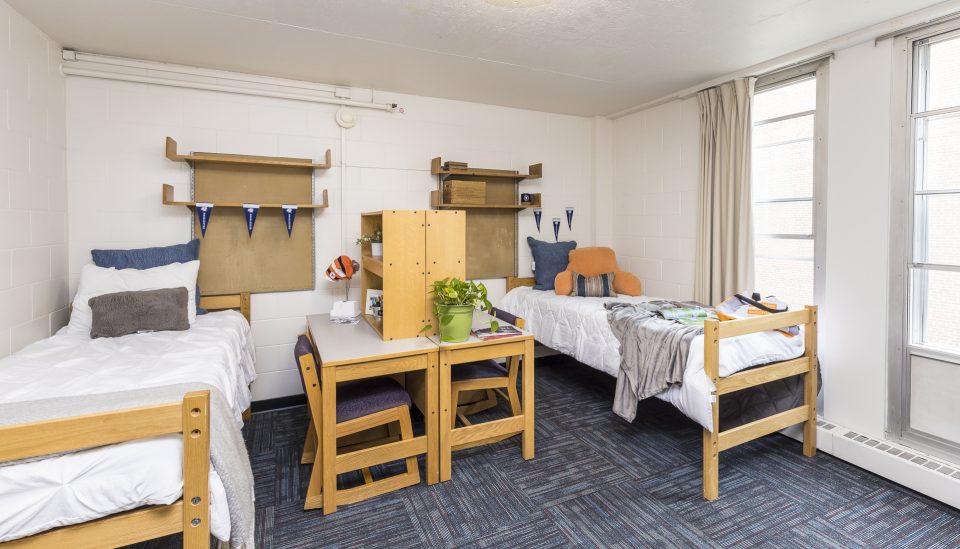 Get ready for your move to Mac! Here's a helpful planning list when prioritizing what you'll need. In general, rooms are standard dorm room size. We recommend bringing less so you don't overcrowd your room.
Provided
Bed with twin mattress, extra long, 36 x 80.
Desk
Dresser and Closet
Each hall has at least one laundry room. (Students can use washers and dryers for free, but must provide their own detergent.)
Each hall has shared kitchens with microwaves and ovens.
A vacuum cleaner is available for checkout in each residence hall
An iron and ironing board are available for check-out in each residence hall
Basic room dimensions are listed under Residence Halls. All campus-provided items must remain in the room throughout the year.
Not allowed in Residence Hall Rooms
Microwave
Air conditioner
Nails or tape that damages walls or paint
Small appliances with an open coil heater such as a hot plate or toaster oven
Halogen lamps
Candles or incense
Packing List
MUST HAVE
NICE TO HAVE
Bedding
1-2 sets sheets (twin xl) and pillowcases
1-2 pillows
Comforter/bedspread/quilt
Foam mattress pad
Back rest pillow
Blankets
Laundry
Portable Laundry bag/basket
Clothes hangers
Laundry Detergent (washing and dryer machines are free on-site)
Drying rack for laundry

Bath
2-3 towel sets (bath, hand, washcloth)
Shower caddy (including soap/shampoo etc.)
Shower shoes (flip-flops)
Personal Care
Shampoo/Conditioner/Soap
Toothbrush/toothpaste
Glasses/Contacts/Solution
Prescription Medications
Nail clipper
Preferred toiletries like lotions, make-up, shaving items, Q-tips, small mirror, brushes, comb, other hair care items, etc.
Over the counter medications
Small first aid kit
Two N-95 or KN-95 masks
COVID-19 rapid test
Clothes
Clothes (we don't recommend bringing your whole wardrobe – bring the basics, plus a few extra favorites, layers and light jackets, socks and underwear)
Robe
2-5 pairs shoes
Cold weather coat, boots, mittens/gloves, hat (if from a warm weather climate, wait to get them in Minnesota)
Purse/wallet
Belts
Jewelry/watch
Rain gear and umbrella
Study Materials
Backpack
4-5 Notebooks
Pens/Pencils/Permanent markers
Laptop and charging cord
Cell phone and charger/charging cord
Earbuds/headphones
Stapler/Staples/Tape
HDMI adapter
Portable speaker
Sticky notes or other notepads
Food/Beverage
Water bottle
Plate/Bowl/Cup and silverware set
Mug with lid
Dish soap and scrubber
Room*


Mini trash can
Trash bags
Mini fridge that meets Macalester space requirements (less than 3.6 cubic ft.)
Fan (residence halls are not air conditioned)
Rice cooker
Coffee maker/electric kettle (no open coils)
Desk lamp (only lighting in room is overhead fixture)
Other decorative lights – LED or small lamps
Cleaning supplies – paper towels, sanitizing wipes, dust clothes
Surge protector/extension cord UL approved
Storage bins
Command hooks and strips (for hanging without damage to walls)
Art, posters, pictures
Area rug
*Check with roommate if possible to avoid duplication and/or talk about preferences
Note: For items that you need after you arrive, here are a few sources:
Free swap: A place for Macalester students to donate or take free items
ACE Hardware (about 2 blocks from campus)
CVS on Fairview (about 4 blocks from campus)
Target on University (just over a mile from campus)
Mac Groveland Neighborhood Facebook pages
Packages sent to you are held in the Campus Center for your pick-up
Mail to:
Jane/Joe Q. Student (please use student's middle initial)
Macalester College (no box number is needed)
1600 Grand Avenue
St. Paul, Minnesota 55105-1899
In addition to the list above there are a variety of other grocery, retail, second-hand/thrift stores accessible by bus. If you're curious about where to get something be sure to check with your Resident Assistant and/or older Mac classmates.