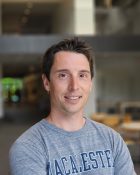 Where did you grow up?
I grew up down the street from Mac off of Grand Ave in Saint Paul, Minnesota. For the last decade, I've been living and working across the United States and Sri Lanka.


What are your main responsibilities?
I am the Residence Hall Director for 30 Mac, Bigelow, Wallace, The Culture House, and the cottages. My main role is to supervise and train an outstanding student staff who serve the residential community. I also do work around RA training and the Community Living Model.
What do you love most about Mac?
Macalester is an amazing place! I am especially drawn to the intercultural diversity and emphasis on student leadership.
What is your favorite hobby?
My hobbies include hiking, camping, biking, and swimming.