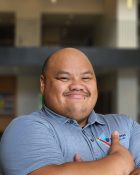 Where did you grow up?
I was born in Fresno, California and grew up on the Eastside of St. Paul
What are your main responsibilities?
I oversee George Draper Dayton (GDD), Grand Cambridge Apartments (GCA), Language & Eco Houses, and the RA House. My main responsibility is to help support both my student staff and my residents on their social and educational well-being while living on campus. This means that building healthy relationships and understanding what resources we have accessible for my residents will be very important through the school year.
What do you love most about Mac?
What I love most about Mac is the kind of people who are here, they are often very ambitious, conscious, open-minded and caring people who want to have a great impact in our society.
What is your favorite hobby?
My favorite hobbying is lifting weights, it allows me to work on myself and improve both my physical and mental health.