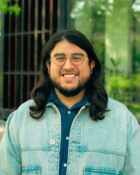 Associate Director of Residential Life - Student and Community Support

Campus Center 247
[email protected]
he/him/his

Where did you grow up?
I was born in St. Paul and grew up near the metro area of Minnesota.
What are your main responsibilities?
As the Associate Director of Residential Life – Student and Community Support, I am responsible for ensuring our team is prepared to support students by implementing best practices and standards utilized by our college. I oversee the conduct process within Residential Life and maintain our emergency procedures for on-call staff. I often collaborate with campus partners across the campus to achieve the goals of my position. Personally, I am motivated to create equitable processes and often keep up with trends in restorative practices, social-emotional learning, and organizational structure related to student support.
What do you love most about Mac?
What I love most about Mac is the community built between students, faculty, and staff. I feel empowered to grow as a professional and valued by students.
What is your favorite hobby?
I enjoy camping, reading, and playing video games!