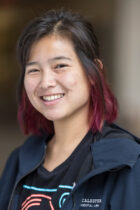 Where did you grow up?
I grew up in Kansas City, although I was born in China.
What are your main responsibilities?
I oversee KVS. This is Kirk Hall, Veggie Co-op, and Summit House. I supervise RAs and help support students while they navigate their college experience.
What do you love most about Mac?
I am looking forward to the community at Macalester. Everyone is so kind and super welcoming.
What is your favorite hobby?
I spend a lot of time playing Overwatch and Valorant but outside of video games, I go for walks and cook.