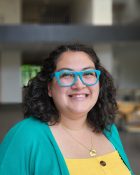 Where did you grow up?
Summit, Il. It's right on the outskirts of Chicago! I have a lot of fond memories taking public transportation to get into the city and exploring the different areas.
What are your main responsibilities?
I provide customer service to many of our community members. I take the lead on many of our seasonal operations. If you have any questions, feel free to reach out!
What do you love most about Mac?
I love the tight knit community that can be created. Collaboration is important to me and I feel like you can build relationships authentically and quickly. There are also a ton of cool spaces to hang out in. My favorite, so far, has been the Idea Lab.
What is your favorite hobby?
I'm an eclectic person, so I like to do many different things! I Enjoy baking, crafting, and collecting concert t-shirts!