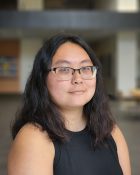 Where did you grow up?
I was born in Minneapolis, grew up in Saint Paul and have lived in the metro area for the majority of my life.
What are your main responsibilities?
Lead Residential Assistant to build community in Doty and Turck and support students as they navigate this journey we call life.
What do you love most about Mac?
Getting to work closely with tons of student leaders, and the opportunity to build on the great work already being done with the Residential Life team.
What is your favorite hobby?
My favorite hobbies are video editing and making collages. Always up to see a cool vision board.