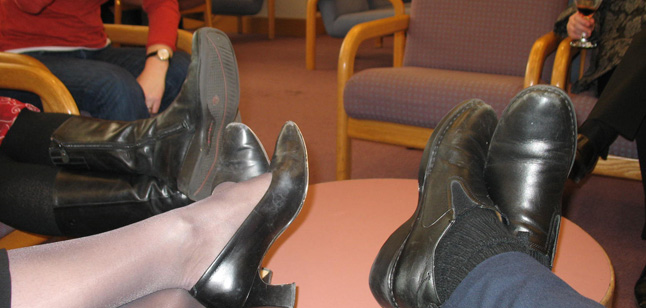 Building community and creating collegiality may seem like relatively minor aspects of a faculty member's life, especially when compared to the demands of scholarship, teaching and service. But at the Serie Center, we believe that community and collegiality can significantly enhance a faculty member's job satisfaction, leading to happier, more productive use of our time.
We strive to make the Serie Center welcoming by providing a pleasant, comfortable space for faculty and staff to meet, serving tasty and nutritious refreshments and creating opportunities to talk with one another about books, ideas, and each other's work. We also host happy hours and stop to celebrate the accomplishments of our colleagues.
Connected Colleagues
Our pre-tenure and non-tenure, junior-faculty mentoring program. Please contact Serie Center Director Joan Ostrove (ostrove@macalester.edu) for more information.
Below are articles by Kerry Ann Rockquemore on mentoring faculty.
Non-Tenure Track Connected Colleagues
The Serie Center works closely with non-tenure track faculty to create programs that address the unique needs of this important faculty cohort. The Serie Center announces a new pilot program NTT-Co-Mentoring.  For more information about non-tenure track activities, please contact Susan Green at sgreen3@macalester.edu or  Fernanda Bartolomei-Merlinat at fbartolo@macalester.edu.
Happy Hours
The Serie Center partners with the DeWitt Wallace Library staff to host twice-a-semester All Faculty/Staff Happy Hours. Held in the Harmon Room on the first floor of the library, Happy Hours offer an opportunity to laugh and relax together, meet new colleagues and visit with old friends. (They also constitute the Serie Center's best-attended events each semester.) Please join us this semester during Happy Hours for as little or as long as your interests and schedules warrant. See the campus events calendar for upcoming dates.
Celebrations
Each February, the Serie Center hosts a faculty/staff party to acknowledge and celebrate our colleagues who have just earned tenure. Join us in this delightful ritual by raising your glass and toasting our newest tenured faculty.
Retired Faculty Events
Each semester the Serie Center welcomes retired faculty back to campus with lunch, morning coffees, and afternoon happy hours. Each gathering of old friends and colleagues highlights ongoing scholarly research by our retired colleagues or informal talks by current faculty.