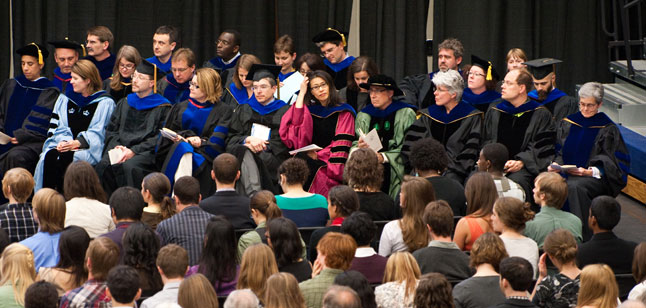 At Macalester College faculty members have the primary responsibility for advising students and their performance in that role is considered in tenure decisions. The Faculty Handbook outlines multiple categories of advising, but in short we expect faculty to provide meaningful academic guidance and mentoring to their official advisees and to other students with whom they have significant interactions beyond the classroom. Below you will find links to campus resources and advising scenarios to assist you in becoming an excellent advisor.
Excellent Advisors…
know where resources are and with whom to be in contact
build and sustain relationships that are conducive to excellent advising and mentoring
engage in professional development around advising
Attend campus discussions and/or workshops about advising (e.g., Talking About Teaching, J-PAW, SPAW, etc) to learn about best practices and to discuss advising with colleagues.
Reflect on your own advising and think about how to improve, just as you do with your teaching.
Solicit constructive feedback on advising and consider how to improve advising strategies.  Adrienne Christiansen asks her advisees these questions each semester, Advising Evaluation (gform)
Read articles that discuss advising and that offer strategies or tools for advising. For some suggested articles on the role of reflection in advising, visit the NACADA (National Academic Advising Association) website.
customize advising experiences based on student identity and interest
Macalester students have different backgrounds, needs, interests and goals. Excellent advisors talk with advisees about these differences, take into consideration the identities that are important for the student, and consult appropriate resources in order to best meet their advisees' needs.  Relevant identities and resources include:  i

nternational students

, first-generation students, students with disabilities, students of color, students from various religious traditions, students of various genders.
The Chronicle of Higher Education has published a number of articles about how to best support first generation students, students of color, and students from under-resourced communities:  Chronicle Focus on First Gen (PDF).  Chronicle Focus on Low Income Students (PDF).
help advisees pick appropriate classes and majors
Curious about majors? The Advising Handbook (PDF) suggests appropriate course sequences and tips for students exploring majors, minors and concentrations.  Academic department websites and the College Catalog are also excellent resources. Consider referring a student interested in several majors to faculty and upper-class students in those departments.
Making or revising a four year plan?  Relevant resources include the current Class Schedule and the college's Graduation Requirements.  If the purpose of developing the plan is applying for Study Away, the Center for Study Away is also an excellent resource.
guide career exploration and planning by helping to establish contacts and identify opportunities
mentor student projects that range from collaborative research to honors projects, performances, and Senior capstones.
Students can participate in collaborative research with Macalester Faculty
Through the Honors Program students have the ability to development an independent senior project; each department sets its own expectations although college-wide guidelines do apply.
Many students use the Internship Program to access projects and experiences
support graduate school applications with program selection advice, recommendation letters, fellowship application assistance, and networking.
Academic Programs and Advising maintains a list of Fellowships and Scholarships for students.
The Career Exploration also promotes many external fellowships. Students are encouraged to schedule an appointment with its staff to confer on their fellowship application, improve materials, and conduct mock interviews.
Get tips for students asking for a Letter of Recommendation.
Advising Scenarios
The following scenarios describe situations advisors encounter with their advisees and possible resolutions.  They are intended to get you thinking about options and should not be considered the only approach that can be used.