We are pleased to announce the inaugural cohort of our Transformative Pedagogies Summer Institute, launching in June 2023. The Transformative Pedagogies Summer Institute is one component of our three-pronged initiative focused on transforming what we teach and how we teach at Macalester. Expanding the year long faculty learning community with facilitation and participation from the Cultural Wellness Center, this initiative will focus on practices that can help us (re)member who we are, who we have been, and who we want to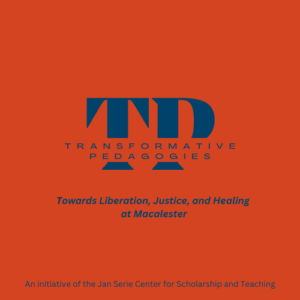 be as humans, as cultural and social beings, and as teachers and learners and scholars. Informed also by the spring Pedagogies of Hope learning community, the initiative will expand our capacity for wonder and joy. We are devoting two Spring Professional Activities Workshop (SPAW) sessions to this effort, and are expanding the focus of our 2023-2024 Friday Conversations about Scholarship and Teaching to engage this theme more fully. 
The Transformative Pedagogies: Summer Institute is an opportunity designed for faculty and staff who will be teaching during Spring 2024. The summer institute will allow cohort members to engage in a process that can help:
transform what we teach and how we teach at Macalester

increase sense of belonging, hope, and connectedness to our cultures, to one another, and to ourselves as members of the Macalester community

reduce experiences of marginalization, oppression, and isolation that are experienced by students and colleagues alike 

inform dimensions of the strategic planning process related to culture, wellbeing, curriculum, and being a student-ready college
Over the course of June, selected cohort members will participate in six, three-hour sessions to further a practice of cultural self study in relation to how they teach. Through a partnership with the Cultural Wellness Center, we will be utilizing a community-based curriculum called "From Race to Culture" that will undergird our learnings. We will also read and discuss a variety of texts grounded in critical and liberatory pedagogies and pedagogies of hope. Four of the six sessions will focus on reflection, study, and community building; two sessions will provide cohort members the opportunity to redevelop and work on their syllabi for the 2023 – 2024 academic year (with a particular focus on a spring 2024 course, see below), applying learnings from the cultural self study process. We will also host check in opportunities in July and August for cohort members to provide more time in community to work on syllabi. With generous support from the Strategic Planning initiative, each participating cohort member will receive $2500; food will be served at each session. 
2023-2024 Faculty Cohort
Jim Dawes (English)
Gonzalo Guzmán (Educational Studies)
Summer Hills-Bonczyk (Art & Art History)
Christina Hughes (Sociology)
Marianne Milligan (Linguistics and Environmental Studies)
Annie Pezalla (Psychology)
Michelle Tong (Biology and Neuroscience)
Vanessa Voller (International Studies)
In addition, eight students will be pedagogical partners with faculty who have participated in the summer institute, modeled on the Students as Learners and Teachers (SaLT) program developed at Bryn Mawr and Haverford. In the fall 2023 semester, students will build relationships with the colleague with whom they will be working and will read and discuss some of the same curriculum that faculty engaged with over the summer. Macalester students will also have an opportunity to engage with student consultants from the SaLT program who will share their learnings and expertise. During the spring 2024 semester, students will attend one class session a week with their faculty member to observe class dynamics and provide in-time feedback. Students will be paid for their participation in this process. 
2023-2024 Student Fellows
Jizelle Villegas '26
Sophia Salinas '24
Cecilia Gómez Jiménez '24
Ryan Cotter '24
Emanuel Deleon Otazu '25
Aminah Mohamed Bouna '24
Anahi Sanchez Lazcano '26
Solomon Dawit '26
If you have any questions about this initiative, please contact Joan Ostrove or Ebony Aya.