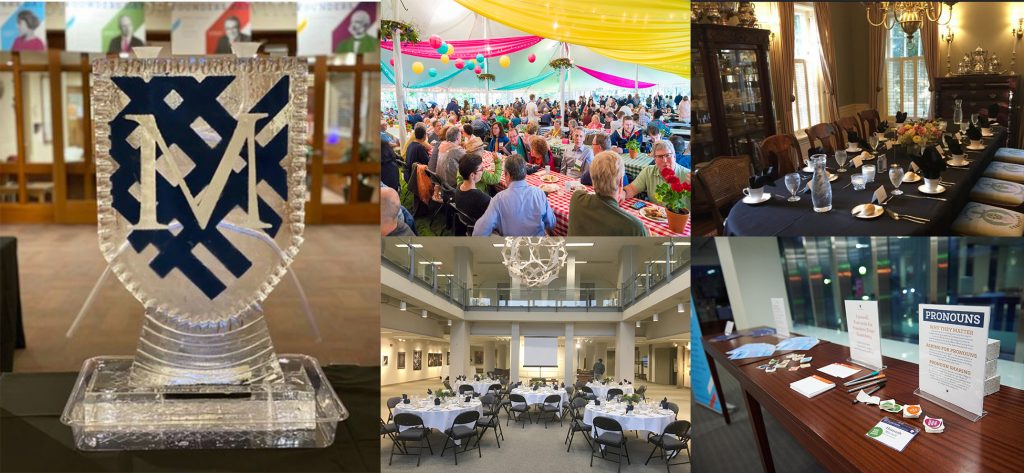 The Special Events Office at Macalester supports the execution of high-level, college-wide events, including Presidential, Trustee, and Advancement events. We work in partnership with offices across campus and can provide colleagues and alumni with up-to-date planning resources. Depending on the type of event, Special Events offers different levels support.
We encourage cooperation and collaboration not only interdepartmentally, but externally with events both on and off campus and around the globe. We have tools that can help your event planning success.
As state COVID-19 guidelines are updated in Minnesota, we will continue to follow the guidance of the Minnesota Department of Health and Macalester's COVID-19 Taskforce. In addition, we recognize restrictions and guidelines are changing throughout the USA and world in accordance to respective government planning and will adjust event plans accordingly. In general, we will continue to evaluate what events can be in-person, virtual, or hybrid as COVID-19 continues to evolve. We invite you to stay engaged and connected through our College Events Calendar and online learning opportunities.
When to include us –
If you have questions – we are here to advise.
If the President, Provost, or other Sr. Staff are involved and/or presenting, we can advise on considerations around their involvement.  
If you are holding a large-scale event in multiple venues: Orientation Week, Conference, etc.
If you are hosting a major speaker: public figures, dignitaries, celebrities, etc.
If you want a unique room set up, or if you may need rentals.
Any major events planned for the Leonard Center.