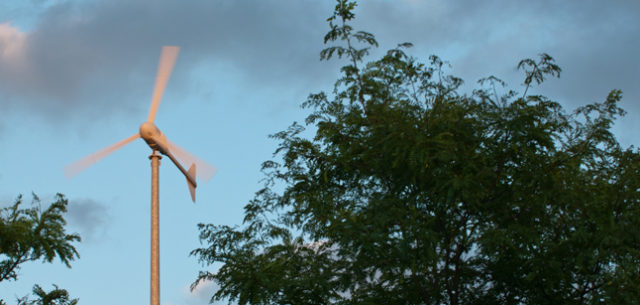 Our Goal
Macalester College President Rosenberg signed the American College and University Presidents' Climate Commitment.  In 2009, the college Sustainability Plan adopted a carbon neutrality date of 2025 and includes the requirements of a climate action plan.
Our Progress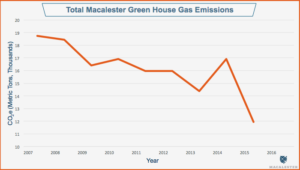 Macalester College Benchmarks
2015:  17.5 percent reduction from 2006-2007 levels
2020:  35 percent reduction from 2006-2007 levels
2025:  52 percent reduction from 2006-2007 levels, 48 percent would be offset obtained from off-site renewable energy.
Macalester Programs
Macalester College is approaching Carbon Neutrality from a couple different angles, each of which you can explore here:
Macalester College Sustainability Plan Commitment to Reducing Greenhouse Gas Emissions
Investing in Energy Efficiency
First, the college will invest in energy efficiency.  To learn more, check out the Energy Projects Page.
Transitioning to Carbon Neutral and Renewable Fuel Sources
Macalester's electrical emissions benefit from the Minnesota Renewable Energy Standard that requires Xcel Energy to generate 30 percent of its power from renewable sources by 2020
Macalester has some limited opportunities to develop renewable sources on campus
To learn more, check out the Energy Projects Page
Offsetting the Remaining Emissions
Preliminary analysis shows that Macalester will likely need to offset or develop offsite renewable energy for 48 percent of its emissions by 2025
Well-researched and tracked "traditional" offsets or off-site renewable energy generation should be implemented after energy efficiency and on-site renewable energy options are in place
Collaborating 
We regularly collaborate with regional, national, and international higher education and sustainability networks for inspiration, assistance, and joint endeavors. Collaboration will occur across hierarchical lines, incorporating ideas of our students, staff, faculty, alumni, parents, and community experts
For more information, see Macalester College Sustainability Plan
Macalester & International Sustainability
The United Nations Framework Convention on Climate Change (UNFCCC) is the United Nations body that manages the international response to climate change.  The Conference of the Parties (COP) is the annual meeting where the countries that ratified the climate change convention meet to discuss how to achieve climate change goals
In 2015, at COP21 in Paris, governments agreed to keep the increase in global temperature by the end of this century well below 2 degrees Celsius above pre-industrial levels and to pursue efforts to limit the temperature increase even further to 1.5 degrees Celsius
Visit UNFCCC's website to learn more about the Paris Agreement
In 2018, Macalester student Que Nguyen '18 is attending as an official observer from Macalester College.  The college has sent students and staff since 2014
All their blog posts are on the Sustainability Office COP blog