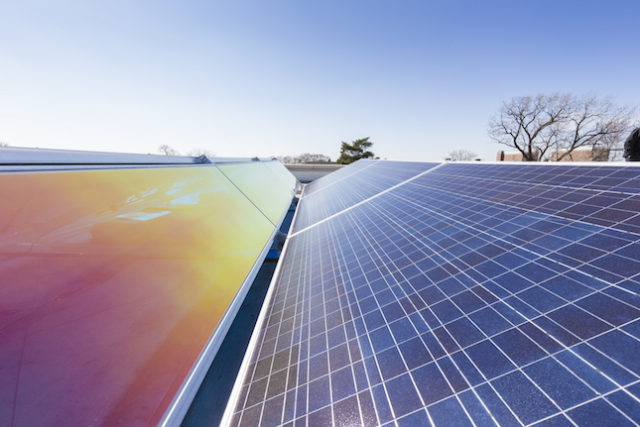 Energy at Macalester
Purchased electricity and heat make up 65 percent of Macalester's greenhouse gas emissions. The Sustainability Plan includes a goal of investing in energy efficiency and switching to lower carbon fuel sources.
Real-Time Metering
The Sustainability Office has worked to have Real-Time Metering available to the campus community to affect behavior change.
Renewables on Campus
Photovoltaic (Solar Power)
December 2015 brought Macalester its first photovoltaic installation located on the roof of Markim Hall
Panels manufactured by tenKsolar
Provides Markim Hall and campus with about 17,000 kWh of electricity each year
Avoids nearly 10 metric tons of CO2 from entering the atmosphere per year (saving $43,000 after 15 years, which can only increase as solar power becomes less expensive)
Expected lifespan of thirty years.
Total cost around $30,000 (in kind)
Wind Turbine
In April 2003, Macalester College installed a 10 kilowatt BWC Excel wind turbine – the first of its size in the City of St. Paul and one of the first on any college campus, which provides an educational opportunity for students, staff and faculty learn about wind energy, wind patterns, geography and the practicality of wind turbines in urban areas.
Designed and manufactured by Bergey Windpower Company
90' tall with three 27′ propellers – total height of 103'
No louder than "white noise" (44.1 dBA at a distance of 100')
Mandated by the Minnesota Legislature in the early 1990s, Xcel Energy provided $35,000 to partially fund the placement of the wind turbine
The 2003 Senior Class gift of $16,000 paid for the installation of the turbine
Turbine placement is not in a known migratory path of birds
Expected Payback at time of installation – 15 years; expected lifespan 20-30 years
Energy Efficiency Projects
Recommissioning Olin Rice
The lights and vent hoods in Olin-Rice were placed on occupancy-sensors to ensure that the building is only heating or cooling spaces when needed, and the electric motors in the heating, cooling, and ventilation (HVAC) system have also been changed to more efficient variable speed drives. These adjustments saved the college over $50,000 in annual energy costs in just 2007 alone.
Language Houses
Several of the language houses along Vernon Street and Princeton Avenue have undergone energy improvements. Most improvements involve closed-cell spray foam insulation either in the basement, attic, or walls of the language houses.
DeWitt Wallace Library
Library computers are set to go to sleep during periods of non-use and to automatically shut down each night.
The lights in the library stacks switch off automatically after a period of non-use.
Larger fluorescent bulbs have been replaced with smaller ones that use less energy.
Information Technology Services
ITS reduces energy usage by choosing environmentally friendly vendors, donating electronics, and virtualizing servers. Check out The ITS Sustainability page to learn more.
Lightbulb Replacement
Facilities Services is starting to strategically replace fluorescent and incandescent bulbs on campus with LEDs. Check out the Lightbulb Replacement page to learn more about which bulbs specifically facilities is using.
Facilities Energy Use
See the Facilities Energy page to explore the facilities department's annual energy reports.