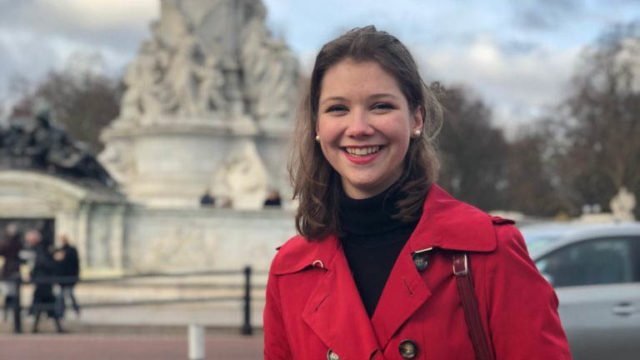 Isabel K. Taylor '21
This month, The Words is thrilled to share some writing from a guest correspondent, the English Department's own Isabel Taylor. Isabel is a a sophomore English literature major and normally works as an office assistant in the department, but this semester, she is studying away in London. Read on to hear about her exciting time abroad.
---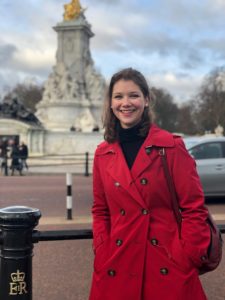 Barely a week after New Year's 2018, I hopped aboard an overnight flight from MSP to London Heathrow, filled with excitement and caffeine. I had chosen King's College London for study away in order to focus on my English major, but the truth was that I had no idea what to expect. Today I've been at King's for one month and fourteen days, and I'm no less thrilled by my classes than I was the day I arrived.
Besides a deeply unliterary course in management accounting, I'm taking three literature courses, all focused on my particular interest in Early Modernism: "Renaissance Wordplay," "The Film of the Play," and "A Mad World My Masters: Performing Culture in Jacobean London." "Renaissance Wordplay" is my favorite, being a deep dive into the textual layers of poets such as Herbert, Milton and Donne. "The Film of the Play" explores film adaptations of Elizabethan tragedies such as Shakespeare's Titus Andronicus, Marlowe's Edward II, and Middleton's Revenger's Tragedy. We watch a new film every week — in class! "A Mad World My Masters," which takes its name from one of our studied plays, examines the Jacobean era of theater which followed the death of Queen Elizabeth I. Taken together, I am happily overwhelmed in getting to study so much of the period that I love.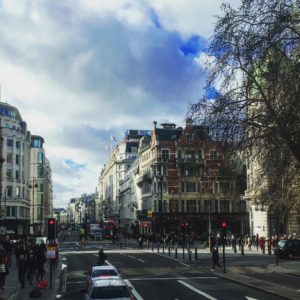 Upon arrival, I attended a seminar about the differences between the British and American schooling systems. Instead of multiple class periods a week, each course has a weekly "lecture" period and a "seminar" period, each of which is an hour long. All students in the class attend the lecture period, which involves no questions or discussion; that much is saved for the seminar period, which includes a smaller portion of the class in an hour's open discussion. As a result, I have only eight hours of class time a week. Much of the rest I devote to reading, as I read on average three plays and an accounting chapter every week.
Finally, London is the place to be for anyone enthusiastic about Early Modernism. The city is chock-full of literary history, from a Shakespeare walking tour that I took in my first week, to the painting of John Donne hanging in the National Portrait Gallery, which I saw in my third. Shakespeare's Globe offers great student discounts to their amazing performances, and the National Theatre also puts on great Shakespeare performances; I attended two different performances of Macbeth within my first two weeks.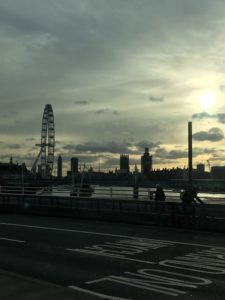 Altogether, my experience abroad has already been a life-changing experience––and I still have almost four months to go! There are no classes this week, so I plan to make a pilgrimage to Stratford-Upon-Avon in a few days. For its unparalleled depth and rigor of study, I would highly recommend King's College London to any English major.
---
The Words extends a big thank you to Isabel and sends our best wishes for the duration of her semester abroad!