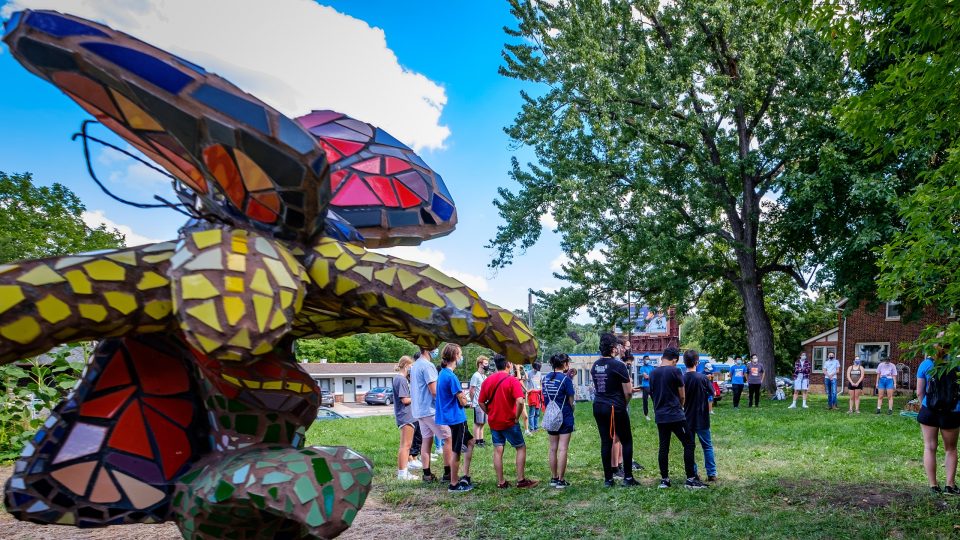 Deferred Enrollment & Gap Year
Considering a Gap Year?
Defer Form deadline is July 1, 2023.
If you are enrolled for the 2023-2024 academic year and would like to defer your enrollment, please proceed by following the process outlined below.
Submit the non-refundable enrollment deposit in the Applicant Portal by the normal deposit deadline, signifying your intent to matriculate.
Complete the Request to Defer Form in the Applicant Portal before July 1, 2023. It includes:

A statement explaining your request to defer, including an outline of how you plan to spend your gap year.
Acknowledgement of the agreement that you will neither defer admission to more than one college nor apply to other colleges during the deferral year.
The Admissions Office grants deferrals to admitted students for a variety of reasons. In a typical year, 20-30 students who have been offered first-year admission choose to defer their enrollment to the following year.
Note: If you are already a current student and looking to take time off (leave of absence) from your studies, please follow this guidance.
After a Deferral Request Has Been Granted
The Admissions Office will notify the student, using the email address given in the Request to Defer Form, to complete the Deferral Confirmation Form (available January 1, 2023 for Fall 2023 start) in their Applicant Portal. The Deferral Confirmation Form requires students to reconfirm their intention to enroll in the fall class and provide the Admissions Committee with a summary of their experiences during the deferral year.
The deadline to complete the Deferral Confirmation Form for students approved for the Fall 2023 is February 15. If the Admissions Office does not hear from the deferred student by February 15, the student will forfeit their enrollment deposit and place in the class.
US Citizens and Permanent Residents who defer enrollment to the following fall semester must reapply for need-based financial aid by early February of the deferral year. Financial aid application requirements will be posted in the admitted student portal. Eligibility for need-based aid generally stays the same, unless there is a significant change in family finances or a sibling enters or leaves undergraduate study. See our FAQ for more information.
International Students (students who will be studying at Macalester on a non-immigrant visa such as an F-1 visa) who defer enrollment to the following fall semester do not need to reapply for need-based financial aid. Updated financial aid letters will be made available by April of the deferral year. Contact [email protected] for more information.
Non-need-based scholarship (a.k.a. merit scholarship) recipients who defer enrollment retain their non-need-based scholarships. Non-need-based scholarships are renewable for eight semesters. Learn more about non-need-based scholarship policies.
Examples of Recent Gap Year Experiences
Students deferring admission in recent years have participated in Rotary Youth Exchange, Global Citizen Year, Sambhali Trust, Up With People, or WWOOF'd around the world. Read about Isabel and Floyd's gap year below.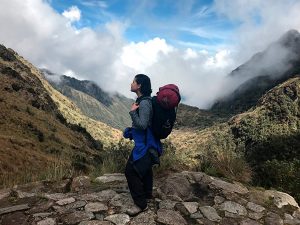 Isabel Conde
Chicago, IL
Latin American Studies
"Being at one of the top schools in my state, everything was always so competitive. I took a gap year because my high school burned me out. Apart from needing a break from libraries and essays, I also wanted to see some of the world and shift my perspective. I had always had the dream of not only doing the Inca Trail in Peru but also learning about the rich history that comes with the stunning archeological site of Machu Picchu."
"I went to Cusco, Peru and lived there for seven months. I was an English teacher for a while, then a hiker and finally a photographer for a travel agency. I went without a program because of the expense. I saved up money by working three jobs for six months to get myself there." Read more about Isabel's experience.
"To be honest, the gap year was intense and made me grow in ways I didn't know were possible, so coming to Mac right after was a crazy transition. I am a better Spanish speaker and would like to think I am a more globally aware citizen."
Floyd Krom
Naaldwijk, Netherlands
Economics Major, Spanish Minor
"During the first part of my gap year, I stayed at home with my family in the Netherlands while playing soccer for an Under-19 team in the 2nd Dutch division, coaching an Under-11 team, and working in a restaurant in my hometown. During the second part of my gap year, I lived in Quito, Ecuador as I volunteered for Villa Ticca, a foundation that was founded by two Dutch women who live in my region. I became involved with this organization during 6th grade through a fundraising event. Villa Ticca offers childcare for children of young single woman who are unable to take care of their children during the day due to poverty, lack of education, and a lack of time. I assisted in the daily activities, organized the afternoon homework classes and sports activities with the older kids, and assisted with the fundraising of the foundation."
"Both the Netherlands and Ecuador shaped me in many different ways as it added to my backpack full of experiences. I believe that my time at Macalester is formed partly by my experiences during my gap year as I had the opportunity to find my true passion and develop myself as a person."
"My advice to those considering a gap year would be to sit down with a piece of paper and pen and truthfully answer the question…what are the dreams you want to follow over the time span of a year? It's all about taking a step out of your comfort zone, to not follow the path many of your friends and classmates take, and to really follow the path that you believe is the best for your personal development. Make a plan and then just DO IT. Follow your dreams, the sky's the limit!"