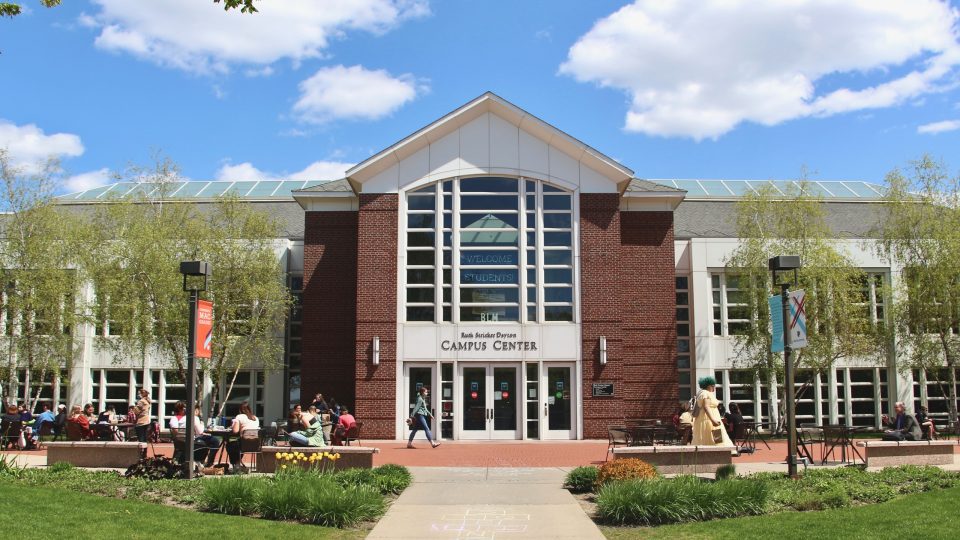 Welcome to the Macalester community! Mac Day is an immersive program where admitted students can experience college life and learn more about Macalester. Students, professors, and staff are ready to share their experiences about academic and student life at Macalester.
Register for Mac Day
April 7, 10, or 14
Programming is identical for each day, so choose the date that fits best in your schedule.
Unable to attend in person? Our Mac Day Livestream allows you to view the main stage presentations and panels on April 7. Register here.
MAC DAY SCHEDULE (April 7, 10, or 14)
You are invited to begin and end your day at our group events. For the remainder of your time, you'll choose from our list of options and fill your day with activities that interest you most.
7:45-8:15 – Check-in and Schedule Selection
Ruth Stricker Dayton Campus Center – 2nd Floor Atrium
Plan your day, collect tickets for tours and class visits, grab coffee and a snack, and chat with Admissions staff.
8:30-9:30 – Welcome and Academic Overview
Ruth Stricker Dayton Campus Center – John B. Davis Lecture Hall Lower Level
Welcome to Macalester and a chance to hear from professors across several academic divisions.
9:40-10:40 –Choice of Tours, Class Visits, Department Visits, and Q&A with Financial Aid
10:50-11:50 – Choice of Tours, Class Visits, Department Visits, and Staff Panel: How to Connect on Campus
12:00-1:00 – Lunch
Kagin Ballroom
Chat with a current Macalester student while enjoying a boxed lunch from Bon Appetit, our campus food service provider. Please contact Admissions if you need to update the dietary considerations associated with your registration.
1:10-2:10 – Choice of Tours, Class Visits, Department Visits, and Parent Panel: Ask a Mac Parent
2:20-3:20 – Choice of Tours, Class Visits, Department Visits, and Student Panel: Life at Macalester
3:30-4:30 – Send Off Mixer
Weyerhaeuser Boardroom
Grab a snack, ask lingering questions, and chat with current students and Admissions staff
Department Visits
Office hours vary by department; see the day's program for timing and locations.
Drop in to meet with students, staff, and faculty working in Macalester's academic departments, as well as several offices serving student needs such as Career Exploration, Disability Services, Financial Aid, and the Office of Student Leadership & Engagement.
COVID-19 PRECAUTIONS
By registering for this event, you agree to follow all COVID-19 safety protocols in place on campus at the time of your visit. Visitors may be expected to wear a well-fitted mask while indoors. All visitors are expected to have up-to-date COVID-19 vaccinations with all boosters recommended by the CDC. For more information, you can review Macalester's current policies.

DIRECTIONS & PARKING
Please park in the South Parking Lot at 165 Snelling Ave, south of the Leonard Center off of Snelling Avenue. Street parking is also available in the surrounding neighborhood. Visit our Maps and Directions page for general directions and printable maps.
View hotels and other lodging options around campus and our surrounding downtowns.
Learns more about our campus and surrounding cities, including museums, theaters, and restaurants.
Questions about Macalester or this event? Drop us a line.
Please contact us if you have any questions.