The department hosts several internships. Highlighted below is Grace Clark's internship that was supervised by Professor
Lizeth Gutierrez.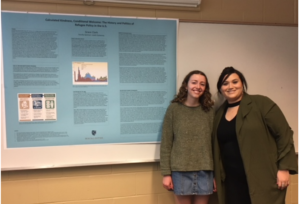 Title: Calculated Kindness, Conditional Welcome: The History and Politics of Refugee Policy in the U.S.
Thesis: During the second half of the 20th century, U.S. refugee policy was mostly driven by Cold War politics. The U.S.
accepted disproportionately more refugee and asylum applications from communist-controlled countries than from people
who were fleeing right-wing anticommunist regimes. By the end of the 20th century, and into the 21st, especially
under the Trump administration, refugee policy has increasingly been motivated by the War on Terror, and the
imperialist, islamophobic sentiment that hides behind it.
Minnesota's sizable Southeast Asian and East African immigrant communities, among countless others, have been continuously affected by changes in refugee policy over the last half century. Under President Donald Trump, refugee resettlement in Minnesota decreased by over 50%. Even among liberal organizations like the International Institute of Minnesota, which help to resettle and support refugee and immigrant populations, their rhetoric has an overwhelming focus on the fact that the U.S. government doesn't give "handouts" to refugees. The refugee admission and resettlement process is incredibly difficult, complicated, and expensive for the refugees themselves.
While these are important points to counter the anti-immigration rhetoric of Trump and his supporters, it is also important to evaluate refugee policy and its implementation in order to understand how it has been impacted by the U.S.'s history of imperialist agendas. This includes the many unjust and sometimes unlawful actions of immigration officers in their attempts to discourage refugee admission for certain populations. In sum, an examination of refugee policy draws attention to the obligation and responsibility that the U.S has to support refugees, instead of creating a national identity that demonizes them.