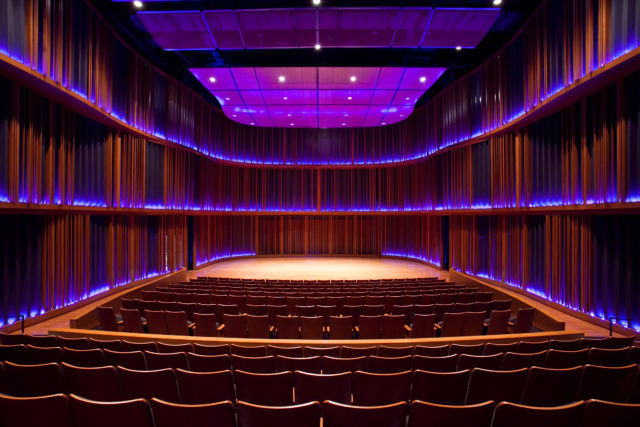 Since its opening in 2012, the Mairs Concert Hall has become recognized as one of Minnesota's most outstanding music venues. This 317-seat, fully accessible recital hall is used for all Music Department concerts, including student recitals and featured guest performances. The hall's design reflects its purpose: the interior shell suggests the elegant curvature of a string instrument, with an array of oak slats placed in mimicry of polyrhythms. A network of movable curtains behind the visible shell can adjust the hall's warm acoustic to suit the Department's many needs — more reverberant for choral music, cleaner for African drumming or pop combos, and anywhere in-between.
The hall houses two Steinway D concert grand pianos, an Allen Q370 organ, as well as state-of-the-art recording and broadcast equipment. Interested students can be trained and eventually hired as sound technicians for the hall. Department performances are regularly streamed on the Music Department's live channel, allowing friends and family across the globe to tune in with HD-quality audio and video.
Due to its frequent use by students, staff, and faculty, the Mairs Concert Hall is not available for rental at this time.