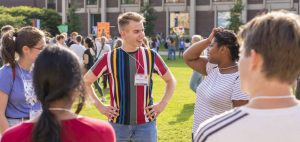 Macalester's co-curricular programs contribute significantly to student learning and growth at Macalester.  Systematic and regular program assessment helps staff to confirm effective practices and identify areas for improvement.
The Associate Director of Assessment and the Associate Dean of Students collaborate to provide an infrastructure and serve as assessment resources for co-curricular departments and programs.  In order to build capacity, we convene a Staff Learning Community on Program Design, Development and Assessment.  The Learning Community builds a foundation for assessment skills, and over the course of the year, participants complete an assessment project. 
In addition to regular Learning Community sessions and individual consultations, there are opportunities for participants to work together to analyze data from institutional surveys or from data generated by their own projects.  These are valuable opportunities for participants to further develop their skills.  It's also a valuable opportunity for staff conversations about assessment results and implications.
COMING SOON!  Please see our Google Site for general information about co-curricular assessment, and for private, department-specific folders with relevant documents.