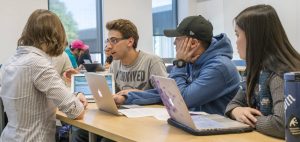 The General Education Requirements Committee (GERC) is one of four curricular committees the faculty maintains to provide the first level of consideration for particular academic matters at the College; all GERC actions are subject to review by the Educational Policy and Governance (EPAG) Committee.
Macalester has four General Education requirements (GERs): Internationalism; Quantitative Thinking; U.S. Identities and Differences; and Writing.  
GERC approves courses that fulfill these requirements.  Another of GERC's roles is to "assist in evaluating whether the goals of the requirements are being fulfilled on an institutional basis in consultation with relevant College programs, offices, and individuals."  The Assessment Office collaborates with GERC on general education assessment. 
An "Assessment for Learning" philosophy (Fall 2019 HLC Workshop) aligns best with our campus environment and priorities.  This embedded approach to assessment places emphasis on alignment among assignments, the examples of student work we collect, and the rubrics used to score student work.  We use systematic and regular assessment to gather information about what's going well and how we could improve.  
Please see the Provost's Reports and Planning webpage for recent GERC reports; see our  Assessment Schedule for additional details.
2021-2022 GERC members:
Mary Montgomery, GERC Chair; Associate Professor, Biology

Brigetta Abel, Director of Writing, Serie Center for Scholarship and Teaching; Associate Professor (NTT), German and Russian Studies

Nancy Bostrom, Associate Director of Assessment

Susana Blanco-Iglesias, Senior Lecturer, Spanish & Portuguese

Susan Fox, Professor and Chair of Mathematics, Statistics, and Computer Science (EPAG Representative)

Juliette Rogers, Professor, French and Francophone Studies
Mario Solis-Garcia, Associate Professor, Economics

Timothy Traffie, Registrar