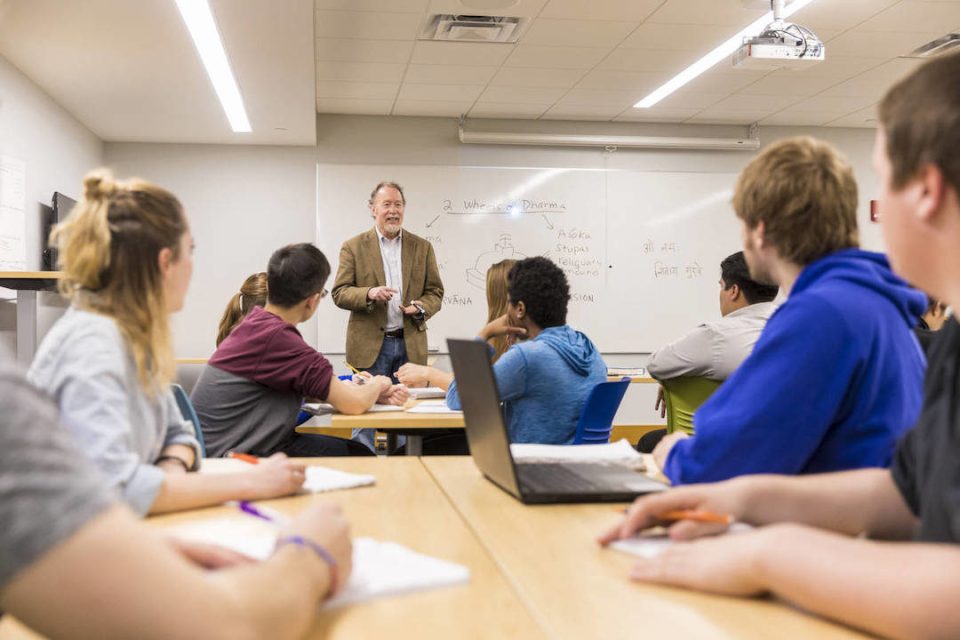 Career Exploration offers programs, services and appointments in areas convenient to your students. Some of these include:
Career and pathway exploration -How does this fit into a career path?
Writing effective materials- Resumes, cover letters and LinkedIn
Networking – Engaging alumni and contacts in field of interest
Interviewing – Behavioral, Case (Consulting) and White Board (Technology)
Negotiating – Salary, details of job offer etc.
Resources While Advising Students
Student Resources – This list of resources are free and available to all Macalester Students who are exploring experiential learning.
Leveraging Your Role as a Faculty Member – Your role as a faculty advisor is powerful. Here is how you can leverage this when speaking with students about career related topics.
Internship and Equity Considerations – Focus areas that Career Exploration highlights in considering and addressing equity issues when meeting with students from underrepresented backgrounds.
Collaboration Opportunities
IN-CLASS ACTIVITIES AND DISCUSSION
Career Exploration advisors present on a variety of topics including career exploration and job search skill development topics. We work with faculty to tailor offerings to best meet the needs of your students. Presentations range from a brief introduction on our services (5 to 10 minutes) to a full class meeting – or several! We are committed to finding overlap with what you are already teaching and any topics that reflect the career curriculum.
Want to learn more or request a visit? Check out the form
CAREER ADVISING FOR STUDENTS
Faculty and staff often refer students directly to the career advising staff. Common topics include but are not limited to: major selection, clarifying skills and interests, job search questions, and graduate school planning.
We can assist students exploring their career options no matter where they are on that journey. Students do not have to have to have a path completely mapped out before coming to see us.
Students can schedule appointments via Handshake. To refer a student directly, please email John Mountain at [email protected]
Collaborate on field-specific or major-related events
Career Exploration collaborates with diverse campus departments and student organizations to offer career exploration and planning events. Please complete the request form to provide details and we will be in touch to determine next steps. 
Academic Internships
Internships are designed to provide students with structured, off-campus, learning-work experiences in a wide range of community organizations in the Twin Cities and around the world.
Organizations provide challenging, substantial work experiences for students and agree to supervise and evaluate their performance.

Host organizations receive valuable work contributions and energy from creative, highly motivated, inquisitive students who may one day enter the workforce in that field.

Students engaged in internships bring relevant real world experience into the classroom to shed light on the theoretical.
Helping Students Plan for Internships
Students may approach a faculty member for advice as they begin brainstorming potential internships, seeking input on types of experiences or particular sites that have the potential to move them toward their intellectual and career objectives.
Faculty can help students thoughtfully explore their options.
What does the student wish to gain from the experience: Exposure to a given field and the work involved? Technical skills? Personal growth/sophistication? The selection of a major and career research?

Who is the best person to act as faculty sponsor for this particular internship? Sometimes the same experience may be examined through significantly different perspectives based upon the discipline of the faculty helping to design and assess the experience.
The Faculty Sponsor Role
The faculty sponsor is the professor responsible for overseeing the academic direction of the learning experience in the internship by helping the student make the connections between what they are experiencing and what they are studying. It is imperative that the internship have the academic integrity to warrant credit, and the professor's involvement in the planning, processing, and evaluation of the experience is the key.
The academic internship director provides ample support and information to assist the professor and student throughout this process.
A faculty sponsor may be different from the student's academic advisor.
Developing a Learning Contract
The student and faculty sponsor work together to plan all aspects of the internship and complete a Learning Contract, which includes discipline-specific learning objectives and relevant learning outcome measures.
While a position/job description describes the intern's role and responsibilities, the learning objectives should describe what the student hopes to learn from the overall experience, especially as it pertains to their course of study. Learning outcome measures are vital for assessing learning and attainment of the learning objectives.
Use the Developing the Learning Contract Quick Start Guide (gdoc) to help the student in developing their learning objectives, learning tasks/strategies, and evaluation and learning outcomes.
For the Academic Advisor
Career Exploration works with students, faculty sponsors, and community partners to create intentional, academically relevant learning experiences. The primary academic objectives of internships include:
Providing opportunities for students to examine first-hand knowledge and theories learned in the classroom for their wider impact on society and the world at large.

Providing opportunities for students to evaluate and apply a body of knowledge and methods of inquiry from an academic discipline.

Providing students access to a larger or different "laboratory" of equipment and/or situations not easily obtained or available on campus.

Providing students expanded opportunities for self-directed learning.

Enabling students to develop work competencies for specific professions and to explore career interests and form networks.

Providing opportunities for students to develop intellectual and professional partnerships.
However, as you advise a student, keep in mind there are other ways an internship may be a positive curricular option. For a student struggling with decisions related to the choice of a major or career, an internship can produce valuable experience and insights that provide motivation and direction. A meaningful internship can also be a great option for a student you see as being "burned out" or disillusioned with school. The real world connection can serve to re-invigorate the student and get them in touch with the value of completing a degree, perhaps more clearly seeing their education as a means to a desired end.
Review Internship Policies and Requirements for more information.
Please feel free to refer students to the Career Exploration office for a consultation about possible internships. We will help brainstorm options, develop a search strategy, create/refine a resume and cover letter, prepare for interviews, and manage all documentation to register the internship for credit.
Faculty are also encouraged to contact Jinna Johnson, at [email protected] to explore incorporating experiential education/civic engagement in courses, and/or to learn ways to be an effective faculty sponsor.