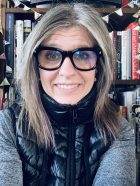 Community Engagement Center Co-Director and Associate Dean of Educational Partnerships

Markim Hall, 309
651-696-6645
[email protected]

My role in the IGC is to educate students on issues related to global citizenship, assisting them with their personal discernment of values, ethics, and commitments towards contributing to the public good in meaningful ways.
In particular, I serve as principle advisor to cross-departmental college access & success initiatives. I also actively advise the Bonner Program overall, with particular emphasis on campus infrastructure and the support & retention of first generation Macalester students and I direct the Bonner Community Scholars first year experience.
My role also includes administering the Off Campus Student Employment Program, where Macalester students can earn their work-study awards working with local nonprofits. I also supervise student programming in the areas of college access, children & tutoring/literacy issues, campus visits, youth events on campus and off campus travel.
In addition, I further develop CEC place-based partnerships, including curricular and co-curricular opportunities in New Orleans and Saint Paul's West Side. This work also includes introducing students, faculty and staff to these geographical areas through highlighting community assets, history and partnerships.
I also actively participate in several campus-wide committees. Historically, this has included: Educational Studies Steering Committee, Staff Advisory Council, Resource and Planning Committee, and Opportunities Abound Collaborative for College Access & Success (chair) in addition to rotation on several campus-wide initiatives, national consortiums, and local boards.
Manages the Off-Campus Student Employment Program
Develops school partnerships
Coordinates literacy, tutoring and youth programs
Promotes College Access through Bonner Community Scholars, campus visits and community partnerships
Chairs the Opportunities Abound Collaboration
Oversees St. Paul's West Side neighborhood community partnerships